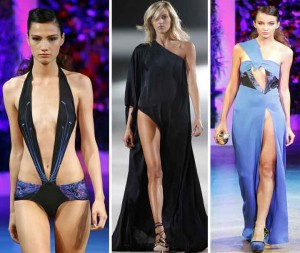 Dhaka, 03 July, Abnews : The faded beauty of a crumbling theater, whose curtain opened to reveal an ultra-modern skyline, was the backdrop to Chanel's haute couture show on Tuesday which designer Karl Lagerfeld described as a mix of tradition with the future. Models walking across the stage and into the audience seated in old wooden theatre chairs showed off a glittery collection that played with proportions. Marked by doubled short skirts and wide low-slung belts, Lagerfeld also added long columned dresses in grays, silvers and blacks and a high dose of gunmetal blue. luxurious sparkling tweeds and embroidered fabrics for Autumn/Winter 2013-2014 provided a theatrical contrast to the set, which elicited gasps from the audience of fashion regulars, including singer Rihanna, draped in strings of pearls over a floor-length cream cardigan.
The abandoned, derelict theatre created by Lagerfeld – known for his extravagant sets built under the soaring iron and glass atrium of the sumptuous Grand Palais – was complete with peeling paint, overturned benches and blocks of collapsed concrete, imparting a decaying beauty to the high-fashion catwalk.
It's the contrast between the old world and the new, Lagerfeld told reporters after the show. Fashion is the only thing that can travel between both. Model and actress Milla Jovovich said she had never seen a fashion show set deconstructed in this way. Walking in I made a joke and said 'Karl really forgot to do the place up. It's a bit of a mess. It's a hot mess.' she said.
Chanel is perhaps the most heavily marketed label in France's pool of fashion brands, with fiercely loyal clientele across the globe. Haute couture, in which garments are meticulously hand sewn by highly skilled artisans, is the creme de la creme of the $275 billion global luxury industry. Lagerfeld presented a series of short, slightly A-line skirts worn over another skirt underneath. One goes in this direction and one goes in that direction. You have one dress for the price of three, quipped Lagerfeld.
Abn/Wed-01/Lifestyle/International/Desk/Mustafiz/Fatama
রিপোর্ট শেয়ার করুন »