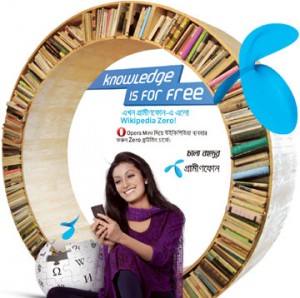 Dhaka, 18 December, Abnews : Grameen Phone launched Wikipedia Zero. Now GP users can use worlds largest encyclopedia Wikipedia (www.wikipedia.org) free of cost. Wikimedia Foundation introudce this service via Wikipedia Zero project. Banglalink launce the same service two month ago. GP officially launched this on December 16, 2013.
Now Banglalink & GP user can use free wikipedia via zero.wikipedia.org. Bangla Wikipedia Editor group welcome this initiative. Wikimedia Foundation local chapter Wikimedia Bangladesh President Mr. Munir Hasan said , 'This proejct will help many of us to access knowledge free of cost. He also mentioned that more than 25 million people are using intrernt through mobile among the total 30 million mobile user.
Free Internet access to Wikipedia will help to develop their knowledge. said Bangla Wikipedia Administrator Nurunnaby Chowdhury Hasive. He said 'Hope more users will get access to Wikipedia'. Another Administrator Nasir Khan Saikat said, 'It is berrer to have more readers of wikipedia, at the same time there will be chance to get more contributors of Wikipedia'. Wikimedia Foundation is working to spread the service via all the mobile operators of Bangladesh. On the same Wikimedia Founation mobile Project Director Carolynne Schloeder visited Bangladesh on November 13, 2013.
Abn/Wed-02/Technology/MR/Mustafiz/Fatama
রিপোর্ট শেয়ার করুন »