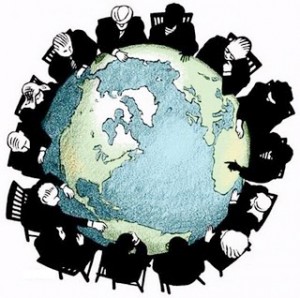 Dhaka, 14 June, Abnews : Seven men — and one woman — will lead their nations at the G8 summit in Lough Erne, Northern Ireland, on Monday and Tuesday. They are:
British Prime Minister david cameron
Cameron is the host. His coalition government is pursuing deep cuts to slash a deficit it inherited when he came to power in 2010, but the economy is extremely sluggish. Perhaps not surprisingly, he has made promoting economic growth the priority of Britain's G8 presidency.
Under pressure from disgruntled right-wingers in his Conservative party, Cameron has alarmed his European Union partners with a vow to renegotiate Britain's terms of membership before putting them to a referendum.
Cameron, 46, was a strong supporter of Western military intervention in Libya and pushed hard for the EU arms embargo on Syria to be lifted, but has stopped short of saying the rebels should be armed. His pre-summit meeting with Russian President Vladimir Putin in London should be a good indicator of whether progress on Syria is possible.
US President barack obama
Obama heads to the G8 summit, and an onward visit to Berlin, keen to escape media storms and mini-scandals that have hit his hopes of a fast start to his second White House term. Obama, 51, is certain to be followed across the Atlantic by fallout from blockbuster revelations about the extent of US spy agency telephone and Internet surveillance programs designed to catch terrorists.
The president insists the National Security Agency programmes are legal, and covered by congressional and judicial oversight, but faces questions on whether the balance between individual privacy and security is out of whack.
Five months into his second term, Obama remains stuck in a standoff with Republicans and is struggling to move his ambitious domestic agenda through Congress.
Opinion polls have his job approval rating dipping below 50 percent, and he knows he only has a limited amount of time — perhaps a year — until domestic lame duck status beckons. Obama may look abroad to retain relevance — but America's problems there seem as intractable as those at home.
His administration is agonizing over whether to send arms to selected rebels battling Syrian President Bashar al-Assad. A new US peace initiative between Israel and the Palestinians is struggling, America's relations with Vladimir Putin's Russia are testy, and despite painful US sanctions, Iran is yet to make concessions on its nuclear program.
Obama, fresh off his first talks with new Chinese President Xi Jinping, is however putting more energy into foreign policy than last year, when it was an afterthought as he campaigned for re-election.
He will soon make his first large-scale African tour as president, and will also travel to Russia and Asia this year. Unlike some of his G8 counterparts, Obama at least can boast a recovering economy.
German chancellor angela merkel
Merkel is the longest-serving of the G8 leaders and the sole woman. In power since 2005, if all goes as expected in September's general election, Germany's most popular politician can book a seat at another four summits.
Merkel, 58, is the unchallenged leader of her Christian Democratic Union party and bested her centre-left Social Democrat election challenger Peer Steinbrueck by a double-digit margin. She repeatedly ranks as Forbes magazine's most powerful woman in the world. In Europe, she has no viable challenger to her mantra of fiscal discipline as the answer to the eurozone debt crisis.
While angry protesters marching the streets of Athens, Lisbon and Madrid brandish caricatures of Merkel in Nazi garb, she enjoys a level of domestic backing unseen by any post-war leader before her.
The eurozone's crisis-ravaged nations blame her for imposing austerity measures they say are choking off desperately needed growth, yet few believe any long-term solution is possible without her.
Merkel is expected to resist calls, led by the United States, for her to back new stimulus measures to help pull the global economy out of the ditch. The chancellor argues that Europe's ageing societies in particular can ill afford more deficit spending to fire up their economies, saying deficit reduction is the only path to sustainable growth.
Japanese Prime Minister shinzo abe
Shinzo Abe is Japan's most talked-about leader for a decade and his policy blitz has put a spring in the step of the long- slumbering economy. In sharp contrast to a lacklustre first stint as premier, the hawkish leader's authoritative rhetoric has bent the Bank of Japan to his will, sent the yen tumbling and stocks soaring.
A political blue-blood, Abe was the nation's youngest-ever prime minister when he stepped into the role in 2006 at the age of 52. But a disastrous year ended in ignominy and bowel problems after he led his Liberal Democratic Party (LDP) to a crushing electoral defeat.
Abe has cut a different figure since reclaiming the top job in December, hitting the ground running with economic proposals dubbed Abenomics. A market bull run took the Nikkei 225 index up 80 percent at one point, powered by the first two of the three arrows of his policy prescription — huge government spending and a flood of easy money.
The third arrow — structural reforms — sits somewhat undefined in his quiver, with some commentators saying a lack of detail in plans to cut red tape, boost income, and get women into the workforce have contributed to market jitters. Despite occasional wobbles, the Japanese public have lapped up Abe's performance.
He will be looking to persuade his G8 colleagues that his easy money is intended to tackle deflation, as rumbles grow that the plunging yen is giving Japanese exporters an unfair advantage.
Russian President Vladimir Putin
Putin is attending the first G8 summit of his new term but his ninth since coming to power in 2000. After Putin was inaugurated to his third Kremlin term last May, he stunned Washington by skipping the G8 summit at Camp David and declining an invitation for a White House meeting with Obama.
He sent his Kremlin predecessor Dmitry Medvedev to the United States and two weeks later conspicuously went to Belarus, dubbed Europe's last dictatorship on the first foreign trip of his new term. Buoyed by energy riches, Putin, 60, has sought to raise Russia's profile and clashed with world leaders over everything from US missile plans to the Kremlin's support of the Syrian regime.
But the controversial tactics of the Russian strongman, who has returned to the Kremlin despite huge protests against his 13- year-rule and imposed what critics call an unprecedented crackdown on dissenters, are expected to raise fresh questions about Russia's G8 membership.
He prides himself on having a good working relationship with Obama, Merkel and France's Francois Hollande but they make no secret of their disdain for rights violations in Russia. Putin's unflinching support of Syrian President Bashar al- Assad will likely raise most leaders' hackles.
French President Francois Hollande
Hollande attends his second G8 summit after a tortuous first year in power in which his popularity slid to a record low. The 58-year-old Socialist had vowed to turn around the economy, stem spiralling unemployment and spur growth, but so far has failed to deliver on any of these campaign pledges.
The eurozone's second largest economy is in recession, unemployment has hit a record 11 percent and Hollande's promise to buck the trend by the end of the year seems unachievable. Hollande has however publicly narrowed his differences with Merkel on the way ahead to tackle Europe's economic crisis.
They met late last month and vowed a united front to push for jobs, growth and reforms, including a full-time eurozone chief. On fighting tax evasion — one of the key themes of the G8 summit – – France wants more bank transparency in Europe and beyond and the automatic exchange of information on depositors, hwhich experts say is vital to curb fiscal fraud. France has been one of the main backers of the Syrian opposition and had lobbied hard for the EU to lift an arms embargo on the rebels.
Canadian Prime Minister Stephen Harper
Harper became Canada's first conservative prime minister in more than a decade in 2006. A 54-year-old economist, he broadly supports the British G8 agenda of supporting free trade, tackling tax evasion and boosting accountability. However Harper faces criticisms at home on these very same fronts. And his aggressive trade agenda in the wake of the 2008 recession appears to be faltering.
After overseeing the signing of free trade pacts with Colombia, Honduras, Jordan, Panama and Peru in the last four years, a much bigger deal with the EU remains elusive. If Europe and Canada can secure a free trade deal, it would lay the groundwork for a planned, much larger accord with the United States.
Italian Prime Minister Enrico letta
Letta will be the youngest leader at the G8 summit and the latest given the task of dragging a recession-stricken economy towards growth and jobs. He has focused on the need for European-level action against youth unemployment, which has hit 40.5 percent in Italy.
He has also called for redoubled efforts against tax evasion — one of the key items on the G8 agenda, calling it a chronic plague in Italy. The 46-year-old moderate leftist came to power in April after a two-month deadlock created by a general election that left no clear winner.
Letta now heads up the first right-left coalition government in Italy's post-war history — a tough balancing act since his key partner is scandal-tainted former premier Silvio Berlusconi's People of Freedom party.
Abn/Fri-01/Economics/International/Desk/MR/Mustafiz/Fatama
রিপোর্ট শেয়ার করুন »