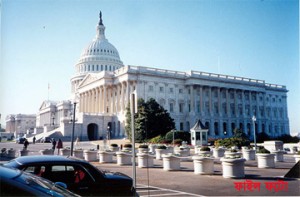 Dhaka, 07 June, Abnews : The White House denied Thursday spying on US citizens or people living in the United States, after revelations of a vast Internet surveillance program. The Washington Post and Britain's Guardian newspaper reported that the National Security Agency (NSA) had tapped directly into the servers of Internet giants- including Microsoft, Google, Facebook and Apple- to obtain videos, photographs and emails. Those reports came on the heels of The Guardian revealing a massive spy agency sweep of domestic phone records.
But a senior Obama administration official said that the Foreign Intelligence Surveillance Court, the Executive Branch and Congress all have oversight over the Internet surveillance program. It involves extensive procedures, specifically approved by the court, to ensure that only non-US persons outside the US are targeted, and that minimize the acquisition, retention and dissemination of incidentally acquired information about US persons, the official added.
And Congress recently reauthorized the program under Section 702 of the Foreign Intelligence Surveillance Act after extensive hearings and debate, the official noted. The NSA program known as PRISM- which gave the intelligence community direct access to the servers of web titans including Microsoft, Yahoo, Google, Facebook, Apple, PalTalk, AOL, Skype and YouTube- is expected to stoke enormous controversy.
Reports said PRISM enabled the NSA and FBI to track an individual's Web presence via analysis of audio, video, photographs, emails and connection logs. The program was set up in 2007 and has grown exponentially to the point where it is now the most prolific contributor to President Barack Obama's Daily Brief, the US leader's top-secret daily intelligence briefing.
While leaked information suggested the Internet firms were willing participants in the program, most denied any knowledge of it. The senior administration official offered a vigorous defense of the program, saying it provided among the most important and valuable intelligence information we collect, and is used to protect our nation from a wide variety of threats.
The government may only use Section 702 to acquire foreign intelligence information, which is specifically, and narrowly, defined in the Foreign Intelligence Surveillance Act, the official added. This requirement applies across the board, regardless of the nationality of the target.
Abn/Fri-01/International/Desk/Mustafiz/Fatama
রিপোর্ট শেয়ার করুন »