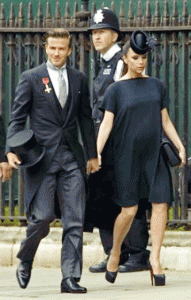 Dhaka, 30 November, Abnews : Fashion designer Victoria Beckham says that she and her husband David are very proud of each other. Victoria and David have seen good and bad times together but stood by each other, reports media. The couple has been married for 13 years and has four children -Brooklyn, 14, Romeo, 11, and Cruz, eight and two-year-old daughter Harper.
David and I have been through so much together. We've had our ups and downs, but we are so proud of each other,'s said Victoria, reports a News agency. Victoria also said that she along with the children have been very proud of David's football career. He retired from the game in May this year.
We have always been – and I include the children in this – astonishingly happy about the success David has achieved. All those matches where we stood cheering on the terraces, said Victoria. The couple will feature on the cover page of December issue of Paris edition of Vogue Magazine.
Abn/Sat-01/Sports/International/Desk/Nazmul Houda/Mustafiz/Fatama
রিপোর্ট শেয়ার করুন »