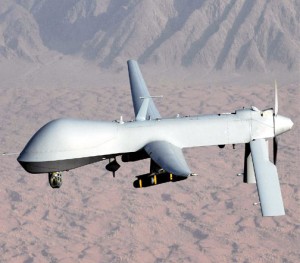 Dhaka, 22 November, Abnews : A US drone strike in northwest Pakistan killed six people including a senior leader of the ruthless Haqqani network, officials said, in only the second such strike outside the country's lawless tribal districts.
The missile attack hit a religious seminary that militants and security officials said belonged to the terror outfit — blamed for some of the deadliest attacks in neighbouring Afghanistan — in the Hangu district of Khyber Pakhtunkhwa province.
Haqqani sources said that the network's spiritual leader, Maulana Ahmad Jan, was among those killed at the seminary, which they said was a rest base for militants fighting NATO forces in Afghanistan. Earlier this month, the network's chief financier, Nasirudddin Haqqani, was gunned down in mysterious circumstances in a village on the edge of Islamabad.
As it usually does after drone strikes, the government condemned the attack as a infringement of sovereignty and counterproductive to efforts to end militancy. Thursday's strike was the first time a US drone hit a district inside Khyber Pakhtunkhwa. The only previous strike outside the tribal areas came in Bannu district, a so-called 'frontier region'.
It was also the first in Pakistan since Pakistani Taliban chief Hakimullah Mehsud was killed in a similar strike in the North Waziristan tribal district on November 1.
Abn/Fri-01/International/Md. Nazmul Houda/Mustafiz/Fatama
রিপোর্ট শেয়ার করুন »