Dhaka, 07 July, Abn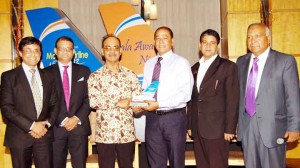 ews : United Airways (BD) Limited has received "Best Domestic Airline of the Year-2012" for contributions to the growth of the domestic air routes in Bangladesh.  Director Sales and Marketing Mr. Syed Khwaja Jonaid of United Airways (BD) Limited received the  on behalf of the company from Honorable Minister Mr. Mohammad Faruk Khan MP, Ministry of Civil Aviation and Tourism on July 06, 2013. The award was given by Travel News Paper the Bangladesh Monitor. Mr. Farhad Hossain, Director Customer Service of United Airways (BD) Ltd., Mr. Kazi Wahidul Alam, Editor of the Bangladesh Monitor and Mr. Syed Ali Reza Iftekhar, Managing Director of Eastern Bank also attend the program.
United Airways also received Desher Kagoj Business Award-2007, Begum Rokeya Shining Personality Award-2007, Arthakantha Business Award-2008, 2011, 2012 and 2013 in Airline Sector, Business Express Business Award-2009, EBL-Monitor Domestic Airline of the Year 2010, NRB Investment of the Year-2010, Business Asia Business Award-2012 and Mirror Aviation Award-2013.
United Airways, the first ever public limited company in aviation sector of Bangladesh, is now operating more international routes from Dhaka to Jeddah, Dubai, Muscat, Kuala Lumpur, Bangkok, Kathmandu and Kolkata and also from Chittagong to Muscat and Kolkata. The airline is operating flights to all major domestic sectors from Dhaka. Now United Airways (BD) Ltd. has total 10 aircraft which are two DASH 8-100, two ATR-72, four MD-83 and two Airbus-310.
Abn/Sun-01/Economics/Desk/MR/Mustafiz/Fatama
রিপোর্ট শেয়ার করুন »