Dhaka, 20 June, Abnews :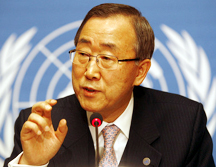 UN chief Ban Ki-moon expressed outrage at a despicable Islamist attack on a UN compound in Somalia which left 16 dead but vowed that the organisation would not end its work in the troubled country. Al-Qaeda-linked Shebab insurgents killed nine people as they shot and blasted their way into the UN compound in Mogadishu  Wednesday, the most serious attack on the United Nations there in recent years.
Three foreigners including two South Africans in the UN compound died, along with a Somali UN worker, two Somali security guards and three civilians in the surrounding streets, officials said. Seven attackers also died in the assault. Ban telephoned Somalia's President Hassan Sheikh Mohamud soon after the attack, UN spokesman Martin Nesirky said.
The secretary general said the United Nations would not be deterred from delivering its mandate, said Nesirky, in a statement released from Beijing where Ban is on an official visit. He said Ban was deeply concerned and outraged by the despicable attack.
The 15-nation Security Council also expressed outrage – but stressed its resolve that terrorist acts in Somalia will not lessen the council's resolve to support Somalia's transition to peace and stability. The insurgents, who boasted about the killings of infidels, used a pickup truck laden with explosives and suicide attackers to blast their way into the fortified base.
Abn/Thu-01/International/Desk/MR/Mustafiz/Fatama
রিপোর্ট শেয়ার করুন »