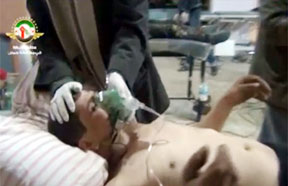 Dhaka, 15 August, Abnews : The United Nations said Wednesday the departure of a team of chemical weapons inspectors to Syria was imminent following a green light from Damascus. The Government of Syria has formally accepted the modalities essential for cooperation to ensure the proper, safe and efficient conduct of the mission, UN Secretary-General Ban Ki-moon's spokesman said in a statement.
The departure of the team is now imminent, he added. The statement said the team led by Swedish arms expert Ake Sellstroem would investigate the sites of alleged chemical attacks for a period of at least two weeks. The mission has been delayed in the past over differences with President Bashar al-Assad's regime over the scope of the probe into the alleged use of chemical arms in the country's civil war.
The United Nations last month reached a framework agreement with the Syrian government on the mission but had been awaiting a final green light from Damascus. One of the sites to be investigated is Khan al-Assal, near Aleppo, where the government says rebels used chemical weapons on March 19, killing at least 26 people, including 16 Syrian soldiers.
The opposition says government forces carried out the attack. The United Nations has not yet identified the two other sites. Our goal remains a fully independent and impartial inquiry, the UN statement said. The Secretary-General believes that an effective mechanism to investigate allegations of the use of chemical weapons can serve as an important deterrent against their employment, it added.
The overwhelming support of the international community for this investigation makes clear that the use of chemical weapons by any side under any circumstances would constitute an outrageous crime. Sellstroem is to be joined by 10 experts from the Organization for the Prohibition of Chemical Weapons and the World Health Organization.
The Syrian opposition says the investigators can have full access to sites under its control where chemical weapons are alleged to have been used. Damascus had called for a UN probe in March but insisted that it focus solely on the Khan al-Assal site. Ban, however, had pressed for broader access and investigation of other sites as well.
Abn/Thu-01/International/Desk/MR/Mustafiz/Fatama
রিপোর্ট শেয়ার করুন »