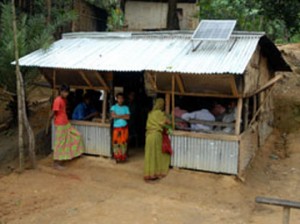 Dhaka, 06 April 2013, Abnews: Experts at a seminar on renewable energy today said solar power is a tried and tested technology and at present this technology is in use in two million houses throughout the country. '115 megawatts of 'green energy' is now produced from solar panels, biogas plants and windmills and 230 megawatts from hydro
sources so far in the country,' they said. 'The government has already set a goal of producing 500 megawatts green energy in future,' they added.
The experts revealed their findings while speaking at a daylong seminar organized by the Institute of Renewable Energy of Dhaka University (DU) and Bangladesh Sourashakti Samity at Nawab Nabab Ali Chowdhury Senate Bhaban of DU. Inauguration of a three-day exhibition of solar technology and equipment was also held on this occasion. The exhibition will continue through April 8 in Khandakar Mokarram Hossain Science
Building of DU. Vice-chancellor of DU, Professor Dr. AAMS Arefin Siddique
inaugurated the seminar and exhibition as the chief guest. Additional secretary to the power division of the Ministry of Power, Energy and Mineral Resources Dr. Md. Abdur Rauf, prof Dr. Shahida Rafik, and general secretary of the Bangladesh Sourashakti Samity prof Dr. Saiful Huq spoke among others at the programme presided over by the director of the DU's Institute of Renewable Energy Md. Sekul Islam.
'15 organizations are taking part in the exhibition with their various projects. Twenty research articles on renewable energy would be presented during the exhibition,' Dr Saiful told.
Abn/Sat-2/Exclusive News/Desk/Mustafiz/Majumder/Shila
রিপোর্ট শেয়ার করুন »