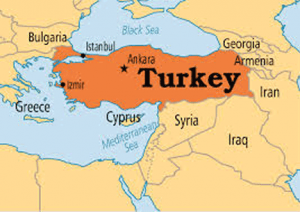 Dhaka, 30 November, Abnews : The Turkish police detained 1,080 illicit migrants in 11 simultaneous operations against human trafficking networks in its western coasts on Friday. Local Dogan News Agency reported that police also seized nine boats and three buses used to transport the migrants during the operations directed by Istanbul province Gendarmerie forces in coordination with the Coast Guard and the National Intelligence Organization.
The operation were carried out in the Tekirdag and Kocaeli provinces bordering Istanbul, as well as the coastal Antalya, Mugla and Aydin provinces. The network was headed by an Iraqi citizen identified as M.A. It would organize the journey of undocumented migrants from countries such as Iraq, Iran, Syria, Pakistan, Afghanistan and Bangladesh.
Greece, Bulgaria or Romania are the destinations of these migrants. Turkey is gradually more becoming a transit country for illegitimate migrants from the Middle East or West Asia seeking to enter Europe, especially since the civil war in Syria.
Abn/Sat-02/International/Desk/Nazmul Houda/Mustafiz/Fatama
রিপোর্ট শেয়ার করুন »