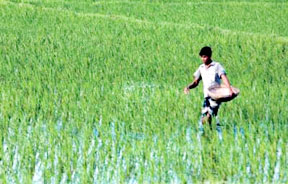 Dhaka, 27 August, Abnews : Farmers have exceeded the fixed target of Transplanted Aman (T-Aman) farming in Rangpur agriculture region by yesterday though the seedling transplantation process will continue till first week of September.
The farmers have brought 10,54,979 hectares of land under T- Aman cultivation so far, higher by 30,646 hectares than the fixed target of bringing 10,24,333 hectares under its farming to produce 27,16,909 tonnes rice this season, official sources said.
The fixed cultivation target include bringing of 9,43,222 hectares under cultivation of high yielding variety (HYV), 16,290 hectares under hybrid and 64,818 hectares under local variety T- Aman this season in the region.
However, the farmers have already brought 9,88,318 hectares under HYV, 17,547 hectares under hybrid and 49,114 hectares under local variety T-Aman cultivation, exceeding the target by 2.91 per cent so far.
The farmers have exceeded the fixed T-Aman farming target in Rangpur, Gaibandha, Lalmonirhat, Nilphamari, Dinajpur, Thakurgaon and Panchagarh while they achieved 97.93 per cent of the fixed target so far in Kurigram under the region.
Horticulture Specialist of the Department of Agriculture Extension (DAE) Khandker M Mesbahul Islam said 83.60 per cent of the growing T-Aman plants are now in tillering, 14.03 per cent in recovery and 2.37 per cent in panicle initiation stages in Rangpur region.
The farmers are expecting to harvest the early variety and short duration T-Aman paddies like BRRI dhan 33, BRRI dhan 39, BRRI dhan 56 and 57, BINA dhan 7 and BU dhan 1 from the first week of October next, he added.
According to DAE sources, the farmers have cultivated T- Aman in 1,58,200 hectares against targeted 1,53,732 hectares in Rangpur, 1,22,900 hectares against 1,22,227 hectares in Gaibandha, 1,09,360 hectares against 1,06,814 hectares in Nilphamari, 1,11,344 hectares against 1,13,695 hectares in Kurigram so far.
Besides, they have cultivated the crop in 81,085 hectares against targeted 77,789 hectares in Lalmonirhat, 2,49,424 hectares against 2,39,734 hectares in Dinajpur, 1,32,600 hectares against 1,24,219 hectares in Thakurgaon and 90,066 hectares against targeted 86,123 hectares land in Panchagarh districts so far.
Supplementary irrigation has been provided in 68,993 hectares of T-Aman fields using 85,927 deep tube wells, shallow tube wells, low-lift pumps and other ways to make the fixed farming programme successful in Rangpur region, the sources said.
Farmers Mohammad Hossain, Shakhawat Hossain and Echhahaq Ali said seedling transplantation got momentum following adequate rainfall in the beginning of August after a month long drought like situation and T-Aman plants are growing well now.
Talking to Abnews, Rangpur Regional Additional Director of the DAE Sikander Ali said T-Aman plants are growing excellent in the fields now predicting a bumper production this year if the climatic condition remains favourable.
Abn/Tue-01/National/Desk/MR/Mustafiz/Fatama
রিপোর্ট শেয়ার করুন »