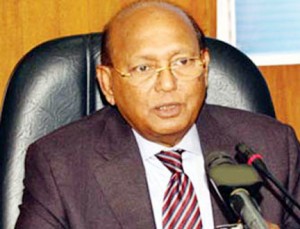 Dhaka, 21 January, Abnews : Commerce Minister Tofael Ahmed today proposed to form a regional forum named 'Bangladesh-India- China-Myanmar (BICM)' to boost the trade in South Asia. India and China have already stared dialogue to form the regional forum…we too gave them our concent, Tofael told a view exchange meeting at Ruposi Bangla hotel here.
Tofael, who held the maiden meeting with the country's top business leaders after he took charge as the Commerce Ministry, said Bangladesh can raise its trade by forming the regional association. Commerce Secretary M Mahbub Ahmed, president of Federation of Bangladesh Chambers of Commerce and Industry (FBCCI) Kazi Akram
Uddin Ahmed, president of International Chamber of Commerce and
Industry (ICC,B) Mahbubur Rahman, presidents of DCCI, BGMEA,
BKMEA, MCCI and leaders of other trade associations, among others, joined the meeting.
Abn/Tue-01/Economics/Desk/MR/Mustafiz/Fatama
রিপোর্ট শেয়ার করুন »