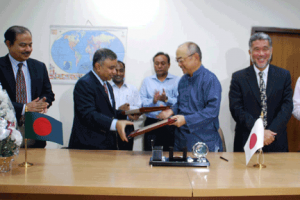 Dhaka, 28 November, Abnews : The Government of Japan will provide TK 38.75Crore (500million Japanese Yen) as grant to enhance primary education in Bangladesh through Japanese Grant Aid for Poverty Reduction Strategy. The Signing Ceremony of Exchange of Notes (E/N) and Grant Agreement (G/A) on this grant was held at the Economic Relations Division in the city on Thursday.
Primary education development will bring better hopes for the future of all the children in Bangladesh," said Shiro Sadoshima, Ambassador of Japan to Bangladesh on the occasion of the signing of the E/N. Bangladesh has been paying arduous efforts in escalating and consolidating the basis of primary education with overwhelming results, and we are very glad to be a part of those efforts, he added.
This grant will support the Third Primary Education Development Programme (PEDP 3) of the Government of Bangladesh with eight other development partners. We have been focusing on improving the quality of primary education for all', said Dr. Takao Toda, Chief Representative, JICA Bangladesh when he signed the G/A.
Dr. Toda also said 'We have supported primary education development in Bangladesh for more than a decade through diverse approaches composed of policy strengthening, development of teaching materials, strengthening school management and development of teacher's training, as well as financing support on PEDP3.'
'This Programme is very helpful for this country,' said Mr. Md. Abul Kalam Azad, Secretary, Economic Relations Division, Ministry of Finance, as he signed the documents. 'I hope Japanese cooperation will continue for a long time. This grant aid is the third donation following 2011 and 2012,' said Kazuaki Hashimoto, Primary Education Advisor, JICA Bangladesh Office.
Kazuaki Hashimoto said, 'In addition to the financial assistance, Japan has been supporting primary education development through technical cooperation, Japanese volunteers and so on. Those technical experts and the volunteers have been working in the field. Therefore we do not only point out the problem but also seek out a solution together. This unique multi-tiered approach aims at planting the seeds of human resources at the primary level overall. We believe the seeds will continue to grow, and will contribute to sustainable development of your country in the near future.'
Abn/Thu-02/Education/Desk/Nazmul Houda/Mustafiz/Fatama
রিপোর্ট শেয়ার করুন »