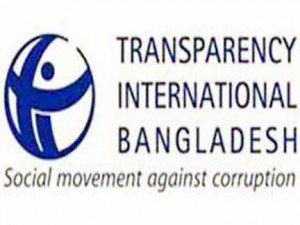 Dhaka, 19 November, Abnews :  Describing the Anti Corruption Commission (Amendment) Bill, 2013 as devious and dissimilar to the Constitution, the Transparency International Bangladesh (TIB) on Tuesday urged the President not to assent to it. We request the President to send back the Anti Corruption Commission (Amendment) Bill 2013 to parliament to review the section 32 (2) and section 32A of it in line with the article 27 of the Constitution, TIB executive director Dr Iftekharuzzaman told a press conference at BRAC Centre Inn in the capital.
He said the newly-amended ACC bill has included a provision that makes obligatory for the ACC to take prior government approval to initiate any graft case against any public servant. The ACC bill was passed without much knowledge of those involved in the amendment process and ignoring the public opinion and interest. We deeply censure it, he said.
The TIB executive director said the government had announced its election manifesto before the general election in 2008, pledging to combat corruption and strengthen the national graft watchdog, but now it has passed such a bill that frustrated people.
If the bill comes into a law, the ACC will be a 'toothless cat', he said adding that the bill will only encourage graft in the country. Iftekharuzzaman said people hope that the President will send the bill back to parliament for review, showing respect to the public interest and sensitivity.
TIB trustee board chairperson advocate Sultana Kamal said the government has passed the bill at the end of its tenure with a motive to have the favour of the government officials during the upcoming parliamentary polls.
The government betrayed people with the passage of the ACC (Amendment) bill, she said this amendment will not only hold back the power of the Commission, but also disempower people. On November 10 last, the government passed the ACC (Amendment) Bill 2013', inserting a provision for taking prior government approval to file corruption cases against public servants.
However, the parliamentary standing committee on the Law Ministry earlier recommended not inserting this provision in the bill. In the Anti Corruption Commission Act 2004, the ACC was empowered to give prior approval in filing such a case. The amendment proposed a new provision in the section 32 of the ACC Act 2004 under which the commission must follow the Rule 197 of the Criminal Procedure Code (CrPC) against a judge, magistrate or a civil servant.
According to the Rule 197 of the CrPC, when any person who is a judge within the meaning of section 19 of the Penal Code, or when any magistrate, or when any public servant who is not removable from his office save by or with the sanction of the government, is accused of any offence alleged to have been committed by him while acting or purporting to act in the discharge of his official duty, no court shall take cognisance of such offence except with the prior government sanction.
Abn/Tue-02/Economics/Md. Nazmul Houda/Mustafiz/Fatama
রিপোর্ট শেয়ার করুন »