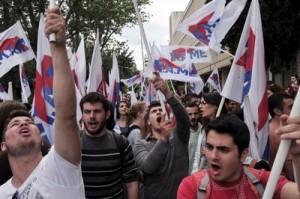 Dhaka, 14 June, Abnews : Thousands of people demonstrated in Greece yesterday in a nationwide strike against the government's dramatic shutdown of public broadcaster ERT, a move that provoked fears of a rift in the coalition government. The protesters gathered outside ERT's offices in Athens and Thessaloniki to call on Prime Minister Antonis Samaras to reverse his decision to pull the plug on the broadcaster as part of sweeping cost-cutting measures. ERT is and will remain open, said a banner hanging on a wall of the broadcaster's Athens headquarters, situated in a northern suburb.
Police said some 15,000 protesters had taken to the streets around the country, nearly 10,000 of them in Athens. As protesters gradually departed from ERT headquarters, employees, still stunned, remained in the building defiantly transmitting rogue broadcasts, reproduced by various websites including that of the European Broadcasting Union (EBU).
It's very insulting to treat us like embezzlers. The public character of information is enshrined in the constitution, said news anchor Chryssa Roumelioti during a rebel broadcast. The government has reportedly responded with the threat of legal action. Any broadcasts carrying ERT's signal are unauthorised… and can be sanctioned under the law, the finance ministry said in an email to operators, released by Greek media.
The 24-hour strike called by the major trade unions to support ERT workers saw trains and buses grind to a halt. Air traffic controllers held a two-hour work stoppage, while broadcast journalists were on an indefinite strike. Speaking to media, the head of non-profit organisation Reporters without Borders, Christophe Deloire, expressed his concern over the decision.
While admitting that a restructuring of the organisation might have been necessary, Deloire wondered whether the Greek state is not cutting down on democracy. Greek media on Thursday raised the prospect of early elections, warning that Samaras could have pushed his socialist and moderate leftist coalition allies too far this time. A solution in one week or elections, said liberal Kathimerini daily.
There is a serious problem of institutional operation, a problem of democracy, socialist leader Evangelos Venizelos told parliament on Thursday. (But) the country needs stability… it does not need elections, he was quick to add. Samaras has scheduled a Monday meeting with his partners to confer on the issue. The government's junior partners, who have called the closure of ERT unacceptable, are already facing internal pressure over the unpopular austerity measures Greece has been applying for a fourth year.
As if on cue, the state data agency on Thursday said the jobless rate had climbed to 27.4 percent in the first three months of the year, from 26 percent a year earlier. The premier had earlier defended the closure, saying: We are eliminating a hotbed of opacity and waste. The broadcaster's television and radio stations were abruptly pulled off air late Tuesday and its nearly 2,700 staff suspended.
The administration quickly presented legislation creating a new broadcaster called New Hellenic Radio, Internet and Television (NERIT) to replace the 60- year-old ERT. The broadcaster will reopen with around half its current number of employees, officials said. The government has imposed sweeping public cutbacks demanded by the debt-laden country's international creditors.
But its spokesman insisted ERT's closure was not part of Greece's bailout obligations to the European Union, International Monetary Fund and European Central Bank, which include the dismissal of 4,000 civil servants this year and another 11,000 in 2014. Greece is caught in a six-year recession which critics say has been exacerbated by successive pay and pension cuts imposed at the behest of its creditors.
The EU said it did not question the government decision to shut ERT but called public broadcasting an integral part of European democracy. Media observers acknowledge that ERT has a long history of mismanagement and political meddling, but say the Samaras administration is not free of blame.
Recent controversial decisions include the appointment of a former deputy minister's daughter as a show host, and the ousting of two journalists who had criticised a minister on air. The shutdown followed months of work stoppages by ERT employees angry at plans to restructure the broadcaster.
Abn/Fri-01/Media/International/Desk/Mustafiz/Fatama
রিপোর্ট শেয়ার করুন »