Dhaka, 12 April, Abnews: Tribespeople in the three districts of Chittagong Hill Tracts are welcoming the New Year in their own distinct tradition – offering flowers to rivers.
On Friday, Chakmas did 'Ful Biju' (offered flowers) on rivers Chengi, Feni and Maini to start the New Year festivities, leaving behind the sorrows of the year gone by.
The main Biju festival will be observed by the Chakmas on the last of the month of Chaitra. Guests are welcomed in style in the tribal households during the Biju festivities.
The Marma tribespeople will observe their traditional 'Jalkeli' (also called Sangrai) festival on Sunday which is also the first day of the Bangla New Year. The Tripuras will also observe their Haribaisyu, Biyuma and Bishikathal festivals on Sunday. The Chittagong Hill Tracts is populated by thirteen other smaller tribes like Tungchungya, Baum, Thiang, Lushai, Pangkho, Mro, Khum, Assam, Chak and Rakhines. They celebrate their festivals during the last two days and the first day of the Bangla calendar. Plainlanders use the acronym 'Boi-Sa-Bi' for the hill festivals, picking up their first letters from the Tripura, Marma and Chakma festivals.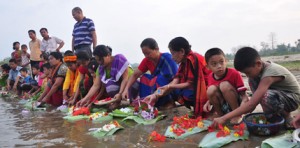 Many tourists from the plains district visit the hills during these festivals to catch a glimpse of the colourful tribal life in the Chittagong Hill Tracts. Traditional cuisines, weaving and cultural functions mark the occasion.
Abn/Fri-02/National/Desk/Mustafiz/Majumder/Fatema
রিপোর্ট শেয়ার করুন »