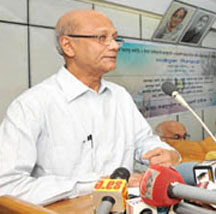 Dhaka, 23 August, Abnews : Education Minister Nurul Islam Nahid today said textbooks would be distributed among all students of primary and secondary levels in a festive mood on January 1, 2014. The present government is distributing textbooks among all primary and secondary level students on 1st January in every year from 2010, he said while inaugurating a Work Plan on Necessity and Logical Evaluation of Curriculum and Textbooks of Secondary level published in light with National Education Policy 2010 at NCTB auditorium here.
Chaired by National Curriculum and Textbooks Board (NCTB) Chairman Professor M Shafiqur Rahman, the function was addressed, among others, by Education Secretary Dr Kamal Abdul Naser Chowdhury, Directorate of Secondary and Higher Education Director General Professor Fahima Khatun and Professor Siddiqur Rahman, a press release said today.
The education minister said this year more standard and correct textbooks would be provided. The textbooks is already being reached to the upazila level, he said. He said books should be provided overcoming any barrier including politics, election process and terrorism.
Abn/Fri-01/Education/Desk/MR/Mustafiz/Fatama
রিপোর্ট শেয়ার করুন »