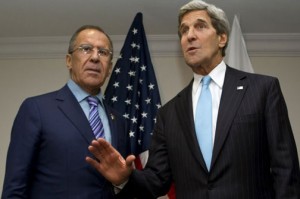 Dhaka, 19 November, Abnews :  Iran believes an international peace conference on Syria can be held soon but that Syrian opposition groups have yet to commit fully to the meeting. Iran deputy foreign minister Hossein Amir-Abdollahian said on Tuesday. The United Nations hopes the 'Geneva 2' conference, which Moscow and Washington are trying to arrange, can convene in mid-December to try to end more than 2-1/2 years of civil war in Syria.
The proposed conference has been delayed for months by discord within opposition ranks, disagreements over whether president Bashar Assad should play any future role in Syria and disputes over whether Iran should be invited. Russia wants Iran to take part but the United States, Saudi Arabia and the main opposition Syrian National Coalition have been against this.
Amir-Abdollahian did not make clear after his meetings in Moscow whether progress had been made on this issue. He said he had had `very important and useful` talks with Russia deputy foreign minister Mikhail Bogdanov and a Syrian delegation led by deputy foreign minister Faisal Mekdad.
It seems we are nearing the holding of the Geneva 2 conference, Amir-Abdollahian told a news conference via a translator, but added, We believe there is still no full readiness among the (Syrian) opposition to take part.
Abn/Tue-02/International/Md. Nazmul Huda/Mustafiz/Fatama
রিপোর্ট শেয়ার করুন »