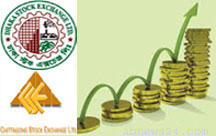 Dhaka, 03 February, Abnews : Dhaka stocks maintained upward trend on Monday for the fourth consecutive day on higher demand from both individual and institutional buyers. DSEX, the broad-based of Dhaka Stock Exchange (DSE), rebounded on Wednesday after witnessing slight fall on Tuesday and continued the rising trend in the two trading sessions of the week.
The DSEX gained 38.85 points or 0.81 per cent to reach 4826.51 at the close of trading on Monday when the Shariah-based index finished 2.24 points or 0.22 higher at 981.52 and the blue-chips DS30 ended the day marginally higher at 1671.440. The daily turnover again crossed Taka 804-crore mark, up by Taka 106.52 crore from Sunday's Taka 697.67 crore. Of the 289 issues traded, 175 gained, 90 declined and 24 remained unchanged.
The day's most active issues included from IT, insurance, chemicals, aviation, pharmaceuticals, financial institutions, textile, and petroleum sectors. Issues from insurance, food, IT, banking and pharmaceuticals were among the day's top 10 gainers when issues from engineering sector were the day's major losing ones.
Abn/Mon-02/Share Market/Desk/MR/Mustafiz/Fatama
রিপোর্ট শেয়ার করুন »