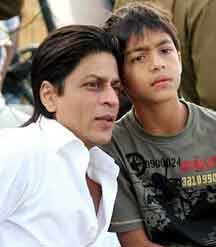 Dhaka, 28 July, Abnews : To counter the rise in crime against women, Bollywood star Shah Rukh Khan thinks it is the responsibility of the parents to teach their sons on how to behave with girls. We have to change the concept of how we bring up our children at home. We need to teach boys how to be gentle, good and respectful to women, Shah Rukh Khan told reporters here last night when asked to comment on the rising crime graph against women.
The superstar said when he talks about girls to his teenage son, he tells him to never break a girl's heart. I tell him – Don't break a girl's heart, treat her gently and there is no way that you can look at an atrocity done on a women and if you do that you will not be forgiven by your father and mother, Shah Rukh Khan added.
SRK said the issue of women safety is not only there in India but around the world. I think the whole country, the whole world for that matter, has issues when it comes to safety of women. Proud to be the brand ambassador of the state, he said once his film Chennai Express releases this Eid, he will come down to Kolkata to see what can be done to promote it.
I will come down and be the spokesperson. I will do whatever I am asked to do. And will do even what I am not asked to do, he added. On when would he be shooting for a film in Kolkata he said that would depend on the story of the film.
Films like Barfi and Kahaani were shot here because the script was like that. If a film requires beauty, history, art, I would come to shoot in Kolkata, said the actor who also owns IPL franchise Kolkata Knight Riders.
Abn/Sun-01/Entertainment/International/Desk/Mustafiz/Fatama
রিপোর্ট শেয়ার করুন »