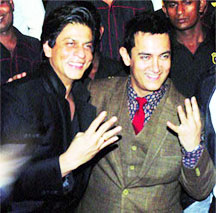 Dhaka, 19 July, Abnews : Shah Rukh Khan may have a blockbuster coming up but as always, it is his personal life that has been making headlines. When news first surfaced that SRK and wife Gauri had signed up for a baby by surrogacy, it seemed like a wild rumour. However, as things turned out, the reports turned out to be true what with Bollywood's power couple announcing the joyous addition of AbRam to their family.
Preceding SRK was that other Bollywood premier league twosome; perfectionist actor and now activist, Aamir Khan and wife Kiran, who, long before presswallahs could get wind of it, made public their decision of opting for a surrogate baby.
Truth be told, every aspect of a Bollywood star's life is followed with great curiosity much to their chagrin, but in going public with details on this very personal and sensitive matter, the Khan duo have rendered yeoman's service to numerous childless couples in India.
Why a conversation I overheard in a Mumbai local train compartment between two ladies in their 50s was rather heartening. One was inquiring after the likelihood of the other's daughter-in-law bearing her a grandchild and the lady's reply was revealing. If her health does not permit it then they could go in for surrogacy or even adopt. After all, if bade log like Aamir Khan and Shah Rukh Khan can do it, then it surely must be okay.
The nascent assisted reproductive technology industry- surrogacy was legalised in India in 2002- is already a booming multimillion dollar industry within India, and yet one that is talked about in hushed tones. With our patriarchal social moorings, predictably, the shame of being "barren" has for most part been shouldered by women, even though men have had to bear their share of the cross of shame only through oblique references to their shortcomings in the virility department. Given the accompanying social hazards, it is understandable that matters of assisted reproduction are usually kept under wraps for as long as possible.
Abn/Fri-01/Entertainment/International/Desk/MR/Mustafiz/Fatama
রিপোর্ট শেয়ার করুন »