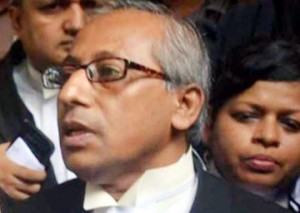 Dhaka, 26 November, Abnews : Dhaka court on Tuesday sent Barrister AKM Fakhrul Islam, a lawyer of convicted war criminal Salauddin Quader Chowdhury, to jail for his alleged involvement in much-talked-about verdict leak incident. Metropolitan Magistrate Emdadul Haque passed the order on Tuesday when investigation officer of the case M Habil Hossain placed him before the court after remand.
On Monday, the High Court stayed the remand order passed by lower court against Barrister AKM Fakhrul Islam. An HC bench comprising Justice Sheikh Hasan Arif and Justice Mostafa Zaman Islam passed the order. On November 20, detective branch of police arrested Barrister Fakhrul from his for leaking of war crimes verdict against Salauddin Quader.
Fakhrul was arrested from his Segunbagicha chamber in the city on November 20. The following day, another court sent him to prison after rejecting a bail plea. Fakhrul was charged under the Information and Communication Technology Act, 2006 on November 21. On October 1, International Crimes Tribunal-1 awarded death penalty to BNP legislator Salauddin Quader Chowdhury for his participation in crimes against humanity during liberation war in 1971.
Abn/Tue-01/Law & Crime/Nazmul Houda/Mustafiz/Fatama
রিপোর্ট শেয়ার করুন »