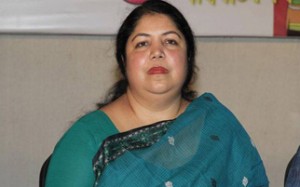 Dhaka, 30 April, Abnews: The Awami League Parliamentary Party on Monday formally nominated party lawmaker Dr Shirin Sharmin Chowdhury as the country's first woman Speaker of the Jatiya Sangsad.
The ALPP at a meeting on Monday formally nominated Shirin Sharmin as the next Speaker and also the country's first female Speaker, AL sources said.  The ALPP Chief and Prime Minister Sheikh Hasina presided over the meeting held at the meeting room of the treasury bench at the Jatiya Sangsad. After the meeting, Awami League general secretary Syed Ashraful Islam briefed reporters confirming Shirin Sharmin's nomination. He said the ALPP unanimously nominated Dr Shirin Sharmin Chowdhury for the post of Speaker of the Jatiya Sangsad. 'She would take oath tomorrow and preside over the House session,' Ashraful said. The AL general secretary said: 'We are proud that the ALPP has nominated Dr Shirin Sharmin for the post of the Speaker, the third highest post of the country.' He said, 'Nomination of a female for the post of the Speaker would play an important role in the advancement of the women in the country as our Prime Minister, deputy leader of the House and leader of the opposition all are women.' Meeting sources said Syed Ashraful Islam proposed her name for the post of Speaker which was seconded by Jute and Textiles Minister Abdul Latif Siddiqui. Meanwhile, parliament will elect the new Speaker on Tuesday. As the ruling Awami League has absolute majority in the House, Dr Shirin's election as the Speaker is certain. The post of the Speaker fell vacant as former Speaker Abdul Hamid was sworn-in as the President on April 24. Deputy Speaker Shawkat Ali became the acting Speaker when the Speaker was made the acting President on March 14. The Awami League Parliamentary Party in a meeting proposed her name and it was supported by most members including the Prime Minister and party President Sheikh Hasina on Sunday.
On April 22, she opined that Shirin should be elected the next Speaker of the parliament as former Seaker Abdul Hamid had been elected the country's 20th President.
Abn/Tues-02/National/Desk/Mustafiz/Majumder/Ripa
রিপোর্ট শেয়ার করুন »