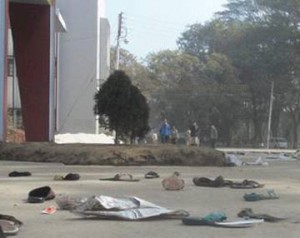 Dhaka, 06 February, Abnews : Leaders and activists of Islami Chhatra Shibir and Jatiyatabadi Chhatra Dal were allegedly behind the vandalism at Rajshahi University (RU) on Sunday after the attack made on the demonstrators, according to the campus sources. RU authorities and police sources said the vandalism caused losses worth around Tk one crore.
Besides, more than a thousand protestors were cornered and trapped at the RU Central Library after being attacked on Sunday. Later, the demonstrating students brought out processions from the dormitories. Some academic buildings and those meant for teachers' residence were damaged then.
Bangladesh Chhatra League (BCL) has already filed a case against RU Islami Chhatra Shibir leaders, blaming the shibir and JCD men for the anarchy. We have seen Chhatra Dal and Shibir activists during the vandalism, said Touhid Al Tuhin, General Secretary of RU unit BCL. They were among the general students and caused the mayhem, he categorically said.
He blamed the activists of BNP and Jamaat's student affiliates for the rampage. Shakhawat Hossain, Assistant Proctor of RU, told the local journalists that when the police took position in front of the library to disperse the demonstrators, a group of students went on rampage at the teachers' residential area mainly Jubery International Guest House.I've never seen those in the campus. They can't be students, but I have seen some Shibir leaders there, he told abnews. The protesting students also denied being involved in the vandalism.
We did not engage in any such activities. The general students have no involvement in damaging university property, the demonstrators' spokesperson Ayatullah Khomeni said. He blamed a 'third party' for the damage. The student wing of those who were trying to create instability in the country for quite a long time has tried to reap a political benefit out of the situation, said Khomeni, the president of RU's Chhatra Union.
Injured photojournalist Gulbar Ali Jewel told the journalists that he was attacked by some JCD members on Sunday. JCD's RU-unit Convener Arafat Reza Ashique said that its members took part in the demonstration but were not involved in the mayhem. We came to know that Shibir was behind the vandalism and attacks on the demonstrators, he added.
However, the university authorities said it believed the demonstrators were behind the vandalism. Some student organisations have gone on rampage to create instability in the university," said Vice-Chancellor Mizan Uddin.
Talking to abnews, he said that the police and the university's probe committees were looking into the matter to find out those involved. We are adamant to restore a peaceful and congenial atmosphere in the campus.
Abn/Thu-02/Politics/Desk/MR/Mustafiz/Fatama
রিপোর্ট শেয়ার করুন »