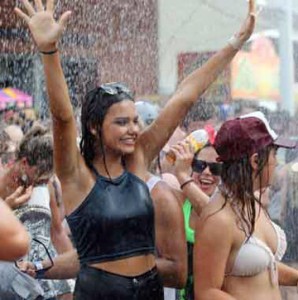 Dhaka, 18 July, Abnews : Britain's Met Office has issued a heatwave alert for London and south-eastern England as the mercury touched 30 degrees Celsius, a record for the year. The Level 3 warning, which is one short of a national emergency, is in place to ensure social and healthcare services take specific measures targeted at high-risk groups such as the very young, very old and those who are unwell. Temperatures are expected to reach or come very close to level-three heat-health watch criteria in London and south-east England. Elsewhere temperatures may come close to criteria; however, certainty is lower, giving a level-two heat-health watch in all but the north-east and north-west of England, the Met Office said.
Level 3 heat-health warnings are triggered when the heatwave threshold temperature on average, around 30 degrees Celsius, is reached over the course of one day and the following night, and where forecasters believe there is a 90 per cent chance of it being met again the following day. A Met Office spokesperson said the mercury could climb as high as 32 degrees Celsius in London today, which would be the hottest day of the year.
The last time London was issued with a Level 3 warning was August 18-19 last year. After five consecutive days of basking in 30 degrees Celsius and over temperatures, forecasters said Britain was in the midst of its first prolonged heatwave since 2006. The alert comes after a series of tragic accidents in which people have died trying to cool off.
Emergency services have reiterated a warning of the dangers of swimming in open water after the bodies of two men were recovered from the water at a beauty spot in Norfolk, where swimming is banned. Two Territorial Army soldiers died of suspected heat exhaustion during an SAS military assessment in the Brecon
Abn/Thu-01/Lifestyle/International/Desk/Mustafiz/Fatama
রিপোর্ট শেয়ার করুন »