Dhaka, 06 May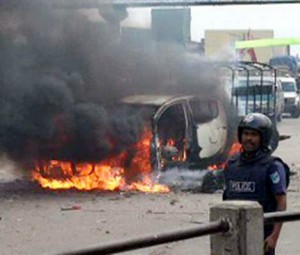 , Abnews : At least Seven people died in a series of violent clashes between police and workers of Hifazat-e-Islam & Awami League (AL) workers in several areas of Narayanganj district. Kachpur, Siddhirganj, Shanarpar and Shimrail in the early mornning of Monday.  Of the seven, two were police officials, one was a Border Guard Bangladesh (BGB) member, three were workers and the rest was a Hifazat worker, says a hospital source. Clashes were also reported in at least 50 spots on Dhaka-Chittagong highway.
The clashes also left dozens of police and BGB personnel, journalists and passers-by wounded. Some of them were sent to Dhaka Medical College Hospital. Eyewitnesses say three way clashes erupted among Awami League workers, Hifazat workers and law enforcers when law enforcers carried out a raid on Madaninagar Madrasah in Sanarpar area.
Hifazat workers torched two police cars and Kachpur police outpost. Chhatra League and Jubo League workers set fire to several rooms of the Madrasah during clashes. Police began firing indiscriminately to bring the situation under control.  Hifazat workers also torched a double-decker bus of Bangladesh Road Transport Corporation (BRTC) in Mouchak area.
Abn/Mon-01/National/Correspondent/Mustafiz/Shila
রিপোর্ট শেয়ার করুন »