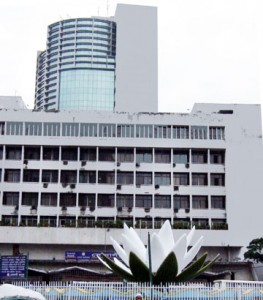 Dhaka, 12 October, Abnews : After a periodic lull, the state owned Sonali Bank (SB) has resumed its full credit operation with a cautious loan disbursement target of Taka 80 billion by next June thanks to its robust growth in deposits and impressive loan recovery.
Talking to BSS, Pradip Chandra Datta, Managing Director and CEO of Sonali Bank said his bank now stands on a strong financial footing due to robust deposit growth and a record recovery of classified loans mostly in cash from a few big defaulters during the last six months.
The bank's deposit jumped from Tk 543.95 billion to 633.95 billion during the last fiscal and continues to rising when it recovered a record of nearly Tk 29 billion outstanding loan mostly in cash during the last eight months. This enabled the bank to start taking an intensive loan disbursement plan for financing projects, he said.
We have formulated a cautious new credit policy to disburse nearly Tk 80 billion to real entrepreneurs with 100 percent recovery target. We have given instructions to all of our branches to choose real entrepreneurs and potential projects very cautiously in line with our new policy and disburse loans quickly, he said. Of the total loans, officials said nearly Tk 800 crore would be invested in small and medium industries where the bank had a recovery success of more than 90 percent and Tk 770 crore has been allocated for loans to agricultural sector.
The bank is under pressure to reduce interest expense that shot up to Tk 3.20 billion on June 30, 2013. The bank's interest expense jumped by Tk 3.10 billion and increase interest income dropped by 1.54 billion as on June 30, 2013, according to a Soanli Bank statement made on provisional figures.
Sonali Bank, the largest commercial bank in the country, became the discussion of the table in 2012 due to some big loan scams that swindled nearly Tk 40 billion crore from its exchequer specially in a time when it was suffering from the overburden of mounting classified loan of Tk 20 billion.
As a result, the bank fell into liquidity trap and its credit operations remained almost stooped. Higher deposit growth and impressive recovery performance have helped the bank to resume its credit operations, bank officials said.
State banks are now facing a new crisis: an increasing mismatch between their credit and deposit growth. The banks' deposit growth increased 18.14 percent year-on-year on August 1 but their credit growth dropped 0.39 percent in that time, according to central bank statistics.
The reason for the deposit growth in public banks is the high public confidence, despite the state-owned banks' deteriorating financial health, the World Bank (WB) said. The WB team estimated the banks' total capital shortfall to be in the order of Tk 17,200 crore.
Declining credit growth is bad news for banks, as it means their main method of revenue, which is interest earnings on the capital they lend out, is shrinking. Loan disbursement is on a declining trend due to the ongoing political situation. If the increasing deposit cannot be invested, it may hamper the bank's profitability.
Our prime concern is to reduce mismatch of our funds as we have robust deposit growth, Pradip Chandra Datta said noting that this nationalized commercial bank has now enough funds to invest thanks to robust deposit growth in recent times.
Despite the loan scams, he said, general people still believe that depositing money in Sonali Bank is safe and their savings will remain protected. "Our deposits from rural people are on the rise driven by increased inflow of remittance and these rural people deposit their remittance in our bank where we have branches in every corners", he said.
Immediately after the scam was unearthed in 2012, the bank faced liquidity crisis that forced it to pay penalty of about Tk 800 million to the BB every day as it could not maintain deposit of cash reserve ratio (CRR) with the Bangladesh Bank (BB) even after borrowing Tk 40-50 billion each day. Meanwhile, the beleaguered bank has become the big lender of call money market and it invests alone the highest amount of funds ranging between Tk 1000 crore and Tk 1,500 crore in a day.
Due to mounting classified loans of Tk 40 billion and slow credit flow, Sonali Bank's profit fell down to Tk 3.81 billion and income to Tk 600m as on June 30, 2013. Capital deficit of the bank increased to Tk 52bn as of June 30 this year while provision shortfall increased to Tk5.76bn. The number of losing branches of the bank dropped to 53 from 60 during the period. We hope the capital deficit and default loans will come down within December, Sonali Bank CEO said.
Abn/Sat -02/Bank & Insuransh/Desk/MR/Mustafiz/Fatama
রিপোর্ট শেয়ার করুন »