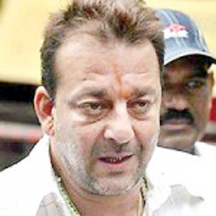 Dhaka, 25 May, Abnews : The high rise walls of Yerwada Central Jail here maintain a stony silence but curious passers-by in this suburban area have been taking a momentary pause to look at the imposing gates behind which Bollywood actor Sanjay Dutt has started his 42-month sentence.
The 53-year-old filmstar was shifted to the historic jail, where Mahatma Gandhi was incarcerated during freedom struggle, in a hush-hush pre-dawn operation on May 22 to serve his remaining sentence in the 1993 Mumbai serial blasts case.
After swiftly moving him here from Mumbai's Arthur Road prison in the early morning hours to avoid media glare that had marked Dutt's earlier arrival at Yerwada in 2007, the jail authorities are yet to take a decision on the mandatory manual work the actor is supposed to undertake as an inmate. He is being kept in a separate cell for security reasons. We will decide on the work to be given to him as per the prison manual, said a jail official.
Now sporting a badge that declares him "Qaidi No 16656", Dutt, who has landed at Yerwada jail for the third time, kept to himself and followed the prescribed routine, which includes breakfast at 7.30 am, lunch at 11.30 am and an early dinner at 6.30 pm, sources said. He had spent six nights at Aurther Road Jail since his surrender on May 16.
Additional DGP (Prisons) Meeran Borwankar said Dutt's jail routine, which will include specific work, will be decided shortly. He will be treated like a normal convict and would be granted only those concessions granted to him by the court for a period of one month, the official said.
The last time when he was in Yerwada, Dutt had been given the work of knitting cane chairs in prison where the carpentry section produces a good volume of wooden furniture that is sold outside.
Abn/Sat-01/Entertainment/International/Desk/MR/Mustafiz/Fatama
রিপোর্ট শেয়ার করুন »