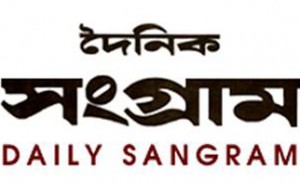 Dhaka, 14 April, Abnews: The Editor of Jamaat-e-Islami mouthpiece Daily Sangram, Abul Asad, has been sued on charges of illegally printing copies of BNP-leaning Amar Desh newspaper in his press, police say.
The pro-BNP Amar Desh's Publication Division's Acting Chairman Mahmuda Begum has also been implicated in the case. The case has been filed under the Printing Presses and Publications (Declaration and Registration) Act, 1973. Ramna Model Police Station ASI Mosharraf Hossain informed bdnews24.com of the development. Assistant Commissioner Nasrin Sultana, also an Executive Magistrate (Publications), filed the case for illegally printing, publishing, exhibiting and selling Amar Desh.
Earlier, Police on Saturday raided the press of daily Sangram, the mouthpiece of the Jamaat-e-Islami, after receiving information that the Daily Amar Desh was being printed there 'illegally'. 'We have also confiscated some copies of the Daily Amar Desh,' Ramna Zone Assistant Commissioner Shibli Noman told at around 11pm. He said the raid was conducted at the Al-Falah Printing Press at around 10pm on the Sangram's press at Moghbazar in Dhaka. The move comes two days after sealing off the press of the Daily Amar Desh at Love Road following a police raid there. Mahmudur Rahman, the Acting Editor of the daily was arrested and then sent to police custody on a 13-day remand in connection with three cases. Rahman was arrested on charges of sedition and for unlawfully publishing an alleged Skype conversation of a former Chairman of the International Crimes Tribunal. Following the arrest, the daily was published, though on a limited scale, on Friday and Saturday. As per Printing Presses and Publications Act, any newspaper needs permission from district magistrate if it wants to print its copies outside its declared press. Recent media reports said the Amar Desh was yet to get the permission. Talking to the Production Manager of the daily Kairul Islam, however, dismissed the claim. 'We were printing those copies only after getting the permission from the Dhaka District Magistrate.' He said, 'A police team led by a female magistrate came to the press at around 10.45pm and said the printing was being done illegally. But, we had already printed around 6,100 copies till that time'. 'Later, they confiscated those,' he added.
He alleged the raiding party did not listen to them when they offered them the permit. He said police also detained 19 members of staff of the press.
Abn/Sun-02/Media/Desk/Mustafiz/Majumder/Shaju/Shila
রিপোর্ট শেয়ার করুন »