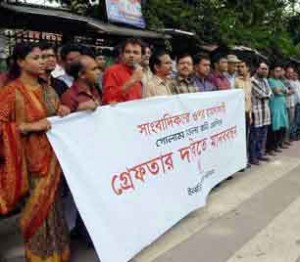 Dhaka, 22 July, Abnews : Journalists Monday set a seven day ultimatum for arresting and ousting ruling party lawmaker Golam Mawla Rony from the parliament. They also branded Rony as 'enemy of mass media'. This came as journalists formed a human chain near national press club in Dhaka Monday morning. The human chain was organized by journalists of Independent Television.
We can't tolerate incidents where miscreants like Rony will repeatedly launch attacks and get away with those then. He should be arrested and ousted from the parliament within seven days. Otherwise, tougher movement will be launched, Ruhul Amin Gazi, President of a faction of Bangladesh Federal Union of Journalists (BFUJ), said.
What are our faults? Why shouldn't these so-called rulers be brought to justice? In the past, we didn't spare anyone and in the future, we will not either even if he comes from the Awami League, the Bangladesh Nationalist Party (BNP) or the Jamaat-e-Islami, he added.
Abn/Mon-01/Media/Desk/MR/Mustafiz/Fatama
রিপোর্ট শেয়ার করুন »