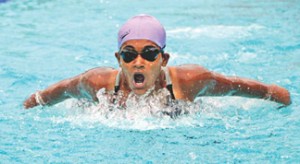 Dhaka, 22 April, Abnews: Romana Akter, a class 9 student of BKSP, hogged the limelight on the opening day of the 8th Bangladesh Games swimming competition after producing two national records at the National Swimming Complex in Mirpur yesterday.
But the girl from Kishorganj wants to pursue a career in other sectors instead of becoming a swimmer in a country where amateur sports like swimming and athletics offer little financial comfort. Romana clocked 2:44.15 minutes to set new mark in 200m butterfly, erasing the previous record of 2:46.98 minutes clocked by Sonia Akter, who also saw her record 5:56.02 minutes in the 400m individual medley broken by Romana. The BKSP natant timed 5:55.20 minutes to set new mark. 'I was confident to win gold medals in both events but never thought of setting national records,' said Romana, 'but I always try to put on my best whenever I take to the pool.'
After seeing neighbouring brothers and sisters at the pool at Niklee under Kishorganj on her way to school, Romana was inspired to try it in her childhood. Her first big break came in the junior national meet in 2008 when she won two gold medals and was immediately picked by the BKSP scouts. In the last national championships, she won three gold medals including the events she yesterday set new records in. However, while most female swimmers dream of obtaining a job in athlete's quota in Bangladesh Ansar, Bangladesh Navy or BJMC through their performances on the pool, Romana wants to pursue her academic career beyond SSC or HSC. 'I want to study in the university and then go up gradually,' said Romana, who is the seventh of 10 siblings. 'However, I will continue to swim alongside my study as part of extra-curricular activities.' Apart from Romana, other gold grabbers were the familiar faces in the swimming pool as Mahfizur Rahman Sagar of Bangladesh Navy broke his 50m freestyle record for the fourth time after timing 24.41 seconds. His previous best was 24.44. 'I am the fastest swimmer in the country since 2007 when I broke Monirul's (Islam) 50m freestyle record,' said Sagor who broke his own record twice in 2008 and 2010. 'This is not the end. I believe I will be able to improve by mark next time,' said the Bangladesh Olympian. Mahfizur's teammate Rubel Rana also kept his dominance in the 50m backstroke after grabbing gold in Bangladesh Games. Rubel made the 50m backstroke of his own since 2002. Jewel Ahmed of Bangladesh Army won two gold medals in 200m butterfly and 400m individual medley while Nazma Akter of Bangladesh Navy won the 50m freestyle to become fastest woman swimmer.
Bangladesh Navy dominated the medal table with three gold and six silvers and two bronze, followed by BKSP who grabbed three golds and two bronze.
Abn/Mon-02/Sports/Desk/Mustafiz/Majumder/Ripa
রিপোর্ট শেয়ার করুন »