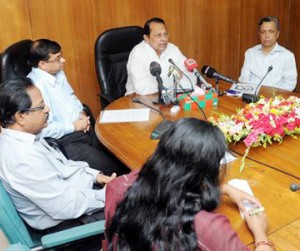 Dhaka, 19 May, Abnews : Mass Communication Directorate would arrange a weekly road show across the country highlighting four-year achievement of the grand alliance government, Information Minister Hasanul Haq Inu said. The government will not spend money in this regard as different companies will give sponsorship for the road show, he said while addressing a press conference at the ministry's conference room here today. The minister said the road show titled on Special Mass Awareness Campaign on Development Activities of the present government will begin from July 1 across the country.
The special campaign includes theme song, seven-day fair in Dhaka, three- day fair at Ramgar, Patia, Lama and Kaptai upazila along with 64 districts in the country, he said. Inu said the awareness campaign would be held through 68 information offices under the Mass Communication Directorate. Bangladesh has successfully faced and overcome many barriers for completing trial of war criminals, controlling communalism, militancy and economic recession during the last four years, the minister said.
Bangladesh already achieved major number of targets out of eight of the Millennium Development Goals (MDGs) fixed by the United Nations, he said. Inu said the government has successfully reduced child and mother mortality rate, poverty alleviation, ensured supply of safe drinking water, ensures hygienic sanitation, reduced gender discrimination in primary and secondary education institutions, adding, We will be able to reached our goal in 2015.
The minister hoped, If we come to power again, the grand alliance government will implement the vision 2021 along with the countrymen. The press conference was also addressed, among others, by Information Secretary Mortuza Ahmed, Principal Information Officer Aminul Islam, Director General of Mass Communication Directorate Tasir Ahmed and Chief Executive Officer of Apan Communications Limited Ruhul Amin Bhuiyan Arif.
Abn/Sun-01/Media/Desk/Jasim/Mustafiz/Fatama
রিপোর্ট শেয়ার করুন »