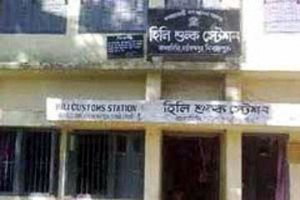 Dhaka, 07 September, Abnews : An all-time record amount of government revenue amounting to Taka 22.4.48 crore, four times higher than the fixed target, has been collected at Hili Land Port (HLP) during the just ended 2012-2013 fiscal year. According to the concerned officials, the government had fixed a target of collecting Taka 54 crore as revenue from the imports and exports though the HLP during the immediate past fiscal year of 2012-2013.
However, the finally collected revenue there amounted to Taka 224.48 crore, which is four times higher than the fixed target for the last fiscal, said Assistant Customs Commissioner at HLP Mazedul Haque. At the same time, Bangladesh has earned foreign exchange amounting to US $ 48.46 lakh by exporting huge quantities of molasses, plastic bags, 'Jhhut clothes', rice bran oil, cement,water pumps etc through the BLP during the last fiscal.
Talking to BSS, Customs Superintendent at Rangpur Divisional Customs, Excise and VAT Commissionerate Khwaja Ahmed Talukder said the government has fixed a target of collecting Taka 241 crore revenue during the current 2013-2014 fiscal at HLP.
The customs officials said the fixed revenue collection target would definitely exceed during the current fiscal too like in the past fiscal as the importers and exporters of both countries have been preferring international trade though the BLP.
Because of better road and rail communication networks inside Bangladesh and India from the HLP and increase in international trade between the two neighbouring countries, imports and exports through the land port has been increasing, they said.
President of the Customs Clearing and Forwarding Agents' Association Abul Kashem Azad of HLP said the port is no more a place for only imports now as huge quantities of Bangladeshi goods were exported to India through HLP during the last fiscal.
As a result of recent liberalisation of exports from Bangladesh by India, prospect for international trade through the port has been increased substantially enhancing both imports and exports further exploring huge potential of the land port, he said.
He suggested for more improvement of the infrastructures including roads and other facilities in both sides of the land port to further attract importers and exporters of each country to utilize the HLP up to its full potential for international trade and business.
Abn/Sat-01/Economics/Desk/MR/Mustafiz/Fatama
রিপোর্ট শেয়ার করুন »