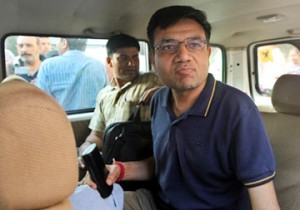 Dhaka, 05 May, Abnews : From living in a rented house in Panchkula about a decade back to owning a palatial house on a four-acre plot, and apparently also a mall, several showrooms, a school and several acres of land, the rise of Vijay Singla has been nothing but meteoric. Those who knew Singla – the nephew of Railway Minister Pawan Kumar Bansal who was arrested Friday for allegedly accepting a bribe of Rs 90 lakh from a Railway Board member- said the businessman in his 40s was considered the right-hand man of Bansal and operated from behind the scenes.
Although he was believed to wield much clout over the last few years in Chandigarh, Bansal's parliamentary constituency, Singla apparently avoided being seen in public with his uncle. Bansal has a large extended family including seven sisters and a brother. Singla is the son of his younger sister who died recently. The family is known to be very close knit with everyone chipping in during elections, with each one having a specified task. And Singla is believed to have been the one who raised funds.
Senior BJP leader Satya Pal Jain, who is also the national head of the party's legal and legislative cell, claimed that while Bansal was distancing himself from his nephew now, it was Singla who had arranged election meetings for him with different segments of voters including industrialists. When a debate of candidates was held prior to the elections where I was invited along with Harmohan Dhawan and Pawan Bansal, Singla was present there as well, Jain claimed.
Before his arrest, Singla lived in the palatial house in the upmarket Sector 28. He is also said to own a four-acre plot in Industrial Area in Chandigarh where an office building and a hotel are being built. The plot where a mall is under construction was learnt to be purchased and Rs 106 crore paid as conversion fee. Construction started in 2011 but work stopped after two labourers were killed when the earth caved in at the site.
Abn/Sun-01/Law & Crime/International/Desk/Mustafiz/Ripa
রিপোর্ট শেয়ার করুন »