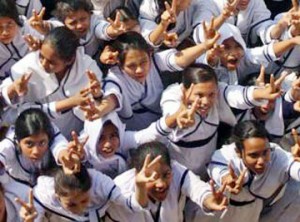 Dhaka, 30 December, Abnews : The success rate in Primary School Certificate (PSC) and Ebtedayee exams has been better this year, despite disruptions suffered during Opposition hartals and blockades. The rate of those who cleared the exams rose by more than 1 percentage point in this year's exam for Grade-V students of schools and by 3 percentage point for madrasaa students. 98.58 percent of the examinees cleared the PSC exams this year, against 97.35 percent last year while the success rate for Ebtedayee exams is 95.8 percent against last year's 92.45 percent. A total of 2,745,614 students out of the 2,950,193 sitting for the tests cleared this year.
Education minister Nurul Islam Nahid handed the results to Prime Minister Sheikh Hasina at 10am. Primary and mass education secretary kazi Akhtar Hossain and officials of primary and mass education department were also present then. In the PSC and Ebtedayee tests, 240,961 and 7,253 students secured GPA-5 respectively. Last year, 233,140 and 2,920 students got GPA-5 in the PSC and Ebtedayee exams respectively.
Minister Nahid will formally announce the results at a news conference around 12.30pm at the Secretariat. Students can get the results from the Directorate of Primary Education website www.dpe.gov.bd and state-owned mobile operator Teletalk website http://dpe.teletalk.com.bd.
They can also get the results through SMSes from mobile phones by typing DPE or EBT, space, Upazila/Thana code number, space, roll number and sending to 16222. While sending the SMS, one will have to use the first five digits of the EMIS code of the government or registered private primary school as the Upazila/Thana code number, which can be known from the website of the Directorate of Primary Education, relevant District Primary Education Office, Upazila/Thana Education Office and primary school.
Abn/Mon-02/Eduction/Desk/Nazmul Houda/Mustafiz/Fatama
রিপোর্ট শেয়ার করুন »