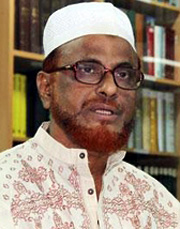 Dhaka, 18 July, Abnews : The prosecution of International Crimes Tribunal (ICT) today submitted the formal charge against ATM Azharul Islam, bringing six charges of crimes against humanity against the assistant secretary general of Jamaat-e- Islami. Prosecutor AKM Saiful Islam and Nurzahan Begum Mukta submitted the 300-page formal charge in four volumes to the office of the ICT registrar this morning. Earlier on July 8, the investigation agency of the ICT submitted the final report into investigation on the alleged crimes of Azhar, bringing six charges of crimes against humanity including mass murder, killings, rapes, arson and others.
Agency's chief coordinator Mohammad Abdul Hannan Khan said on that day that they have found credible evidence that the Jamaat leader had connection with the killings of as many as 1,225 people in different places of Rangpur during the Liberation War.
The chief coordinator of the agency also added that Azharul, now 60, was the Rangpur unit president of Islami Chhatra Sangha, the then student wing of Jamaat-e-Islami, and the commander of Rangpur district unit of Al-Badr during the War of Liberation. Hailed from Batason Lohanipara under Badarganj upazilla of Rangpur, Azharul was arrested on August 23, 2012 and produced before the tribunal three days later. He has been in jail since then.
Abn/Thu-01/Law & Crime/Desk/DB/Mustafiz/Fatama
রিপোর্ট শেয়ার করুন »