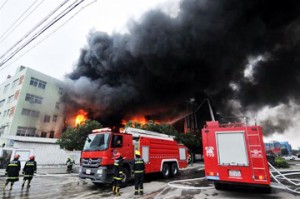 Dhaka, 03 June, Abnews : A fire at a poultry processing plant in northeast China killed at least 55 people on Monday, state-run media said. The blaze at the Baoyuan poultry plant in Dehui in Jilin province was caused by an electric spark, state broadcaster CCTV said on its account on Weibo, a service akin to Twitter. 55 people have been found dead at the site of the fire,  it said.
Firefighters were still working to extinguish the blaze almost five hours after it broke out around 6:00 am, the official state media reported, citing unnamed local sources. Emergency personnel were conducting rescue efforts, it added.
Workplace safety standards can be poor in China, where fatal accidents happen regularly at mines and factories, with some blaming lax enforcement of rules. In some cases owners or company officials have been arrested as a result. It was not clear whether poor standards were to blame for the fire in Dehui, and no arrests were immediately reported.
Abn/Mon-01/International/Desk/MR/Mustafiz/Fatama
রিপোর্ট শেয়ার করুন »