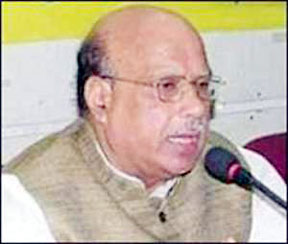 Dhaka, 01 October, Abnews : Awami League presidium member and former Home Minister Muhammad Nasim has reiterated that the national election will be held by January 2014 as per the constitution and there will no power to resist it. He also termed Begum Khaleda Zia's comments in her Khulna meeting a criminal conspiracy against state. Nasim says, She called upon Bangladesh Army, BGB, Police, RAB and Ansar to over through a democratic government. But, she never can do this.
Nasim made these observations while addressing a workers meeting of Awami League at the party office in Rajshahi city last night as the chief guest. With former mayor of Rajshahi City Corporation AHM Khairuzzaman Liton in the chair, Prof Zinatun Nessa Talukder, MP, and local leaders Prof Bazlur Rahman, Meer Iqbal and Rafique Uddin also spoke.
Nasim said the election will be held under Bangladesh Awami League and the leadership of Prime Minister Sheikh Hasina. He urged the BNP to take part in the election for its existence in politics. He said the BNP will be vanished from this soil if it does not participate in the next general election.
Muhammad Nasim said the present government is capable of holding elections in a free, fair and neutral manner. It has been proved in the recently held elections to five city corporations. Whereas, he said the incidence of fraudulence had been happened in all the elections during the BNP tenure. So, for the sake of a fair national election, the coming polls will be held under the interim government according to the constitution, he further said.
Muhammad Nasim also viewed that Awami League will get all the seats if it wins in Rajshahi region. He put emphasis on highlighting the government's successes standing besides the people in general to snatch the victory. Referring to the recent city corporations' elections results he, however, said: We have to take lessons from the errors. We shall not commit any more mistakes in the next four months.
A tough test is waiting for us. We have to go to the people to seek scope for correcting the previous errors if any, Nasim said. He said the party leaders and workers should be more active to get victory in the election.
Abn/Tue-01/Politics/Desk/MR/Mustafiz/Fatama
রিপোর্ট শেয়ার করুন »