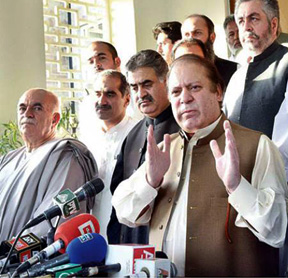 Dhaka, 03 June, Abnews : In a rare show of political graciousness and to bring some solace to the annoyed Baloch nationalists, PML-N President Nawaz Sharif has dole out chief minister slot to National Party (NP) President Dr Abdul Malik Baloch, besides announcing that next governor would be from the other junior coalition partner Pakhtunkhawa Milli Awami Party (PkMP). Flanked by PkMP President Mahmood Khan Achakzai, NP President Dr Abdul Malik Baloch, Mir Hasil Bazanjo and PML-N provincial president Mir Sanaullah Zahri, Nawaz Sharif announced these decisions after a marathon meeting with leaders of the nationalist parties at Murree.
Nawaz said that it was the day of deliverance as his party always wanted to see development, progress and prosperity in Balochistan and it was the first step toward this end. He said that despite having majority in the provincial assembly, the PML-N gave sacrificed these important posts for setting a good tradition. He said there would be a government in Balochistan free from corruption and pointed out that had there been democracy, there would have been no violence in the province.
He assured all out support of federal government in bringing peace and tranquillity in the restive province and made it loud and clear that a corruption-free and efficient government would be established in the province which would serve the cause of the people and would lessen their sufferings. He pledged to introduce a culture of merit in the province and said they would not let anyone loot and plunder the public money.
Nawaz said that today the forces against dictators and usurpers of public rights were standing with him and they would jointly heal the wounds inflicted by the dictatorial regimes in the province. He also made it clear that no one would be allowed to violate the constitution and writ of the government would be ensured. He said the name of Dr Abdul Malik for the slot of CM was finalised with consensus and so would be the decision of giving the slot of governor to PkMP. He said that PML-N was happy over their role and would continue to act graciously toward their allies.
PkMAP chief Mahmud Khan Achakzai said Punjab had shown heart and as a result they were standing together there. Punjab's attitude is democratic, it has agenda of democratic Pakistan, to fight against terrorism and corruption and Pashtun and Baloch are with it today, he said and added, If Punjab will take one step for friendship and reconciliation, Pashtuns and Baloch will respond by advancing with two steps.
Achakzai said the decision would help in making a new Pakistan. He said Balochistan has many problems, which could be tackled through joint efforts. He said, We want to take all the parties along and only through this approach, lasting peace would be possible in Balochistan and Karachi. Achakzai thanked Nawaz Sharif on behalf of Baloch and Pashtun leadership for the good gesture and said they would stand with him and Pakistan in future.
Mir Hasil Bizenjo of National Party appreciated the nomination of Dr Abdul Malik for the post of chief minister. He said that Nawaz has honoured his commitment to take along the leadership of smaller parties. He said they would not allow the repetition of things that had happened in the last 10 years. He said, It is our commitment to Nawaz Sharif that we would not allow anyone to indulge in corrupt practices in Balochistan. That will strengthen democracy and Pakistan and the resources would be utilised for the well being of people of Balochistan and Pakistan.
PML-N Provincial President Sanaullah Zehri, who himself was an aspirant for the CM slot, said they would extend full cooperation to the new chief minister. He said that only by overcoming the problems of law and order and corruption they could be able to achieve Nawaz Sharif's vision of a new Pakistan.
Hailing from Caach, Turbat, Dr Abdul Malik Baloch holds MBBS degree but he had never been a practicing doctor and spent his life in active politics. He was first elected MPA in 1988 and then in 1990 and held ministerial portfolios on both occasions. In 2006 he was elected Senator and now he would be nominated as the 15th Leader of the House in Balochistan Assembly. Interestingly, the slot of chief minister would be going to Turbat for the first time since the creation of the country.
Earlier, there was a deadlock over the issue of CM slot until Saturday and the PML-N chief again summoned his Balochistan chapter party leader Sardar Sanaullah Zehri and central leader Nawabzada Changez Marri to Murree on Sunday. Later, he chaired a meeting to deliberate on the issue which was attended by Mir Hasil Bezinjo and Mehmood Achakzai.
Some political analysts were of the view that Nawaz Sharif was quite serious regarding Balochistan and wanted there a responsible government which could lead the province towards normalcy and prosperity. They said that was why, despite having strength, Nawaz wanted a coalition government with nationalist forces and was seriously considering to honour recommendation of PkMAP.
Abn/Mon-01/Politics/International/Desk/Mustafiz/Fatama
রিপোর্ট শেয়ার করুন »