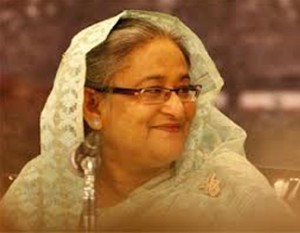 Dhaka, 07 March, Abnews: Prime Minister Sheikh Hasina today requested Norway for augmentation of its investment and help with the modern technologies to generate hydropower.
The Prime Minister said this when visiting Norwegian minister for trade and industry Trond Giske called on Prime Minister at her office here today, PM's press secretary Abul Kalam Azad said. Norway can help Bangladesh with floating wind turbines to generate electricity from offshore and developing hydro- electricity power from slower current of rivers, the Prime Minister said. Sheikh Hasina thanked Norway for duty free access of Bangladesh products to its market and requested her to import more RMG, textiles, leather and jute products, tea, pharmaceuticals, frozen fish, shrimp and bicycle from Bangladesh. She requested Norway to import Bangladesh's IT products and identify Bangladesh as a low cost outsource of IT and IT enabled services. Pointing out the liberal trade policy of Bangladesh, she said, Bangladesh may be an ideal place for Norwegian investment in the IT and energy sectors as well as tourism, telecommunications, road and highways, agro-industries, leather goods, textiles, electronics and fashion industries. Requesting Norway to invest in ship building sector, the Prime Minister said, Bangladesh can manufacture ships and trawlers at a cost 15 percent less than any other country. The Norwegian minister assured the Prime Minister of his country's continued support to Bangladesh's economic progress. He appreciated Bangladesh's progress in various sectors including in the field of economy. 'Bangladesh has made remarkable progress in the economic areas,' the envoy said adding 'we were always beside the country in its economic progress that we will do in future also.'
PM's energy affairs advisor Dr Towfiq- e-Elahi Chowdhury, ambassador at large m Ziauddin, PM's Principal Secretary Shaikh Wahid-uz-Zaman and PMO secretary Mollah Wahiduzzaman and Norwegian envoy to Bangladesh Ragne Birte Lund, among others, were present.
Abn/Sun-02/Economics/Desk/Jasim/Mustafiz/Majumder/Shahnaz
রিপোর্ট শেয়ার করুন »