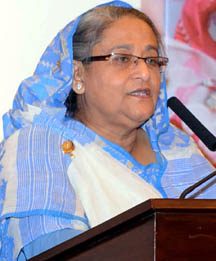 Dhaka, 29 May, Abnews : Putting emphasis on developing local competency in all areas, including nuclear reactor management, Prime Minister Sheikh Hasina today urged local nuclear engineers and related manpower to improve their management skill and update the knowledge. You will have to take the total responsibility of the Rooppur nuclear power plant one day. So, please develop your capacity to take the responsibility, she said.
While inaugurating an international conference here on nuclear power, the Prime Minister said the government has a plan to set up another nuclear power plant in southern region if the Rooppur nuclear power plant in northern region becomes successful.
Sheikh Hasina said Bangladesh is committed to following the safety standards and other relevant guidance of the International Atomic Energy Agency (IAEA) as well international good practices.
For embarking on a nuclear power programme, our government has given top priority to develop an appropriate nuclear infrastructure based on the IAEA safety standards and other relevant guidance as well as international good practices, she said.
The two-day conference titled 'Nuclear Power: A Chance of Successful Economic and Socio-Political Development' has been jointly organized by the Ministry of Science and Technology and Russian State Atomic Energy Corporation – ROSATOM.
With State Minister for Science and Technology Architect Yeafesh Osman, the inaugural function was also addressed by Russian Ambassador to Bangladesh Alexander A. Nikolaev, secretary of the ministry Md Rafiqul Islam and Chairman of Bangladesh Atomic Energy Commission Abu Sayeed Mohammad Feroz.
Sheikh Hasina said the government has framed the Bangladesh Atomic Energy Regulatory Act, 2012 to strengthen national nuclear regulatory infrastructure to ensure safe and secure applications of nuclear techniques.
We have formed an independent nuclear regulatory authority called Bangladesh Atomic Energy Regulatory Authority, she said, adding the organization has been working with the close cooperation of ROSATOM and IAEA.
Sheikh Hasina said Bangladesh has been facing frequent natural disasters thanks to its geographical location and adverse impacts of climate change. We are focusing on this issue and make sure the foolproof safety of the nuclear power plant. We will never compromise on the safety issues, she said.
The Prime Minister mentioned that during her bilateral consultation with Russian President Vladimir Putin in Moscow in January she requested him for providing the safest and the latest reactors to Bangladesh. He assured me in this regard, she said.
Sheikh Hasina said development of competent manpower for the management of radioactive waste and spent fuel and emergency preparedness to any accidents is imperative to nuclear power production.
Russia will provide us technical support to developing local manpower for the operation and maintenance of the nuclear power plant. Russia has also agreed to take spent fuel of the nuclear reactors back to their country safely, she said.
Pointing to the establishment of a nuclear industry information centre in Dhaka by ROSATOM, the Prime Minister said it would create an opportunity for Bangladeshi people to be acquainted with the different aspects of nuclear power plant. I hope ROSATOM will be able to start the activities of the centre soon, she said.
Terming electricity as an important component for the socioeconomic development of the country, Sheikh Hasina said the government has been giving priority to increasing electricity production since the assumption of office in January of 2009.
During the period, the country's power generation capacity has been increased to 8,537 MW as 55 power stations with a total production capacity of 3,870 MW have been constructed, she said.
The Prime Minister said 32 power stations are under construction and another 6,344 MW of electricity would be added to the grid from these plants. Besides, tenders for constructing 21 more plants will be floated soon.
Sheikh Hasina said the government is encouraging the initiatives for renewable energy production and providing incentives to the suppliers and users. It helped ensure the supply of electricity at the remote areas of the country, she said.
The Prime Minister said 60 percent people of the country have come under electricity network as the government provided electricity connections to three million new subscribers. We want to reach electricity to every village. In achieving the target, we have taken medium and long-term plans for increasing electricity production she said.
As part of the plan, she said, the government has decided to construct nuclear power plant. We signed an agreement with Russia to build the country's first-ever nuclear power plant in Rooppur of Pabna with a total production capacity of 2,000 MW in two units, she said.
Sheikh Hasina said Russia has a vast experience, expertise and modern technology in setting up of nuclear power plant. Utilizing their technology and expertise, we have initiated to produce safe nuclear power, she added.
Wishing the success of the conference, the Prime Minister hoped that its outcome would greatly facilitate the shaping of our nuclear power programme in such a way that the people of Bangladesh will be beneficiary of the peaceful use of nuclear power technology.
I believe this conference will be marked as an important initiative not only to ensure nuclear safety but also to pave the way for socio-economic development of our people by using nuclear power, she said.
Abn/Wed-01/National/Desk/MR/Mustafiz/Fatama
রিপোর্ট শেয়ার করুন »