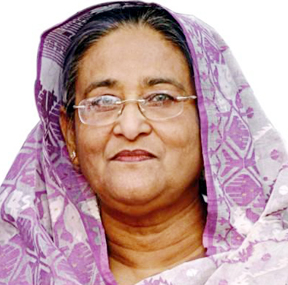 Dhaka, 02 June, Abnews : Prime Minister Sheikh Hasina today urged the developed world to increase their supports to achieve Millennium Development Goals (MDGs) and the post-2015 targets. Due to reduction of overseas development assistance (ODA), many initiatives of the developing world could not achieve desired progress, she said.
Sheikh Hasina also called for giving highest priority to face the natural and man-made disasters in the post-2015 development agenda. The world should give the highest priority to the disaster risk reduction as well as climate change mitigation programmes, she said.
The Prime Minister said this while inaugurating the National Consultation on Post- 2015 Development Agenda at Ruposhi Bangla Hotel here this morning. General Economics Division (GED) of the Planning Commission arranged the consultation.
With Planning Minister Air Vice-Marshal (retd) AK Khandker in the chair, the function was also addressed by Finance Minister Abul Maal Abdul Muhith, Foreign Minister Dr Dipu Moni and National Convenor of Rio+20 Drafting Committee Dr Qazi Kholiquzzaman Ahmad.
Member of General Economics Division (GED) of the Planning Commission Dr Shamsul Alam made a brief presentation on the post- 2015 development agenda, while UN Resident Coordinator Dr Thushara Fernando gave the welcome address and Planning Division Secretary Bhuiyan Shafiqul Islam delivered the vote of thanks.
The Prime Minister expressed the hope that the social development goals reflected in the Vision 2021 would be included in the post-2015 development agenda. She said the world should find appropriate goals to achieve sustainable development. We will also have to give emphasis on science education and research, she said.
Stressing the need for elimination of digital divide, the Prime Minister said supply of sufficient nutritious food should be ensured in addition to achieving food security.
She also called for ensuring free access of commodities and services of the least developed countries (LDCs) to the markets of the developed world. Availability of enough funds, transfer of technology and research facilities of the LDCs should be ensured, she said.
Sheikh Hasina said sustainable development can only be achieved through ensuring peace. So, on behalf of the people of Bangladesh, I presented 'People's Empowerment and Development' model in the UN General Assembly in 2011 in a bid to achieve global peace. She said 193 member states of the UN passed the proposal in last December. In the model, I identified six mutually reinforcing peace multipliers, she said.
These are (a) Eradication of poverty and hunger (b)Reduction of inequality (c) Mitigation of deprivation (d) Inclusion of excluded people (e) Acceleration of human development and (f) Elimination of terrorism. I hope these issues would be considered in the post-2015 development agenda, she said.
Abn/Sun-01/National/Desk/MR/Mustafiz/Fatama
রিপোর্ট শেয়ার করুন »