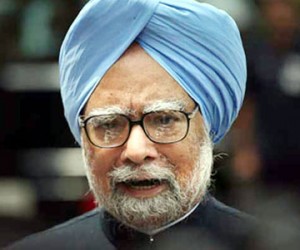 Dhaka, 09 November, Abnews : With domestic political compulsions increasingly outweighing international obligations, Prime Minister Manmohan Singh was Friday set to decide against attending the Commonwealth Heads of Government Meeting (CHOGM) in Sri Lanka next week.
Singh has been under tremendous pressure from within the Congress as well as Tamil parties, including prospective ally DMK, to skip the event to register New Delhi's protest against Colombo's alleged violation of the human rights of Tamils in Sri Lanka and for its failure to give more powers to its ethnic Tamils.
The Congress feels his visit could have a negative political fallout in Tamil Nadu, with elections round the corner. The party's core group discussed the issue Friday, the second time in two weeks. While the party was tight-lipped on the PM's plan, sources said he may not attend the November 15-17 summit.
Political parties in Tamil Nadu have been demanding a complete boycott of the event although that is not on the cards – External Affairs Minister Salman Khurshid is scheduled to travel to Colombo.
Besides political considerations, sources said New Delhi is upset with Colombo's reluctance to address some of India's major concerns, including implementation of the 13th amendment of the Sri Lankan constitution for giving equal rights to Tamil citizens.
The MEA – worried about the diplomatic ramifications of the PM staying away from the high-profile event – had proposed to the PMO that Singh visit Jaffna as well. The proposal also included a meeting with the Northern Provincial Council's newly-elected chief minister C V Wigneswaran, who had invited Singh to visit Jaffna.
Congress sources said while India cannot stop engaging with Colombo or boycott CHOGM completely, the Prime Minister's participation would have both electoral and political ramifications in Tamil Nadu given that the entire political spectrum there is against his visit. The Tamil Nadu Assembly had even passed an unanimous resolution urging him to boycott the meeting.
Abn/Sat-02/International/Desk/MR/Mustafiz/Fatama
রিপোর্ট শেয়ার করুন »