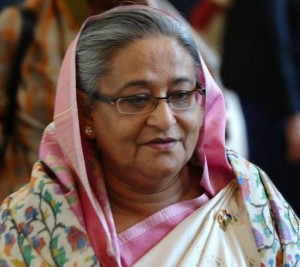 Dhaka, 03 November, Abnews : Prime Minister Sheikh Hasina paid homage to the Father of Nation Bangabandhu Sheikh Mujibur Rahman and four national leaders today marking the Jail Killing Day. She paid homage to Bangabandhu by placing wreath at his portrait at Dhanmondi Bangabandhu Museum premises this morning. She paid tributes to the four national leaders by placing floral wreaths at the graves of the leaders at Banani Graveyard.
The four national leaders, key figures of the liberation war in 1971 under the leadership of Bangabandhu, were brutally killed by anti-liberation force in Dhaka central jail on this day in 1975 as part of conspiracy to make new born country leaderless after horrendous assassination of Bangabandhu.
The four great leaders are Acting President of Bangladesh during War of Liberation Syed Nazrul Islam, Prime Minister Tajuddin Ahmed and ministers Captain M Mansur Ali and AHM Quamaruzzaman. After paying her tributes to Bangabandhu, the Prime Minister stood for some time in solemn silence as a mark of respect to the architect of independent Bangladesh.
The Prime Minister, also the president of Bangladesh Awami League, placed wreath to Bangabandhu and four national leaders as the party chief. Deputy Leader of Jatiya Sangsad Syeda Sajeda Chowdhury, Agriculture Minister Matia Chowdhury, Post and Telecommunication Minister Sahara Khatun, Food Minister Dr Abdur Razzak, Home Minister Dr Mohiuddin Khan Alamgir, Communications Minister Obaidul Qader, Awami League General Secretary and LGRD and Cooperatives Minister Syed Ashraful Islam were present.
Senior leaders of Awami League Amir Hossain Amu, Tofael Ahmed, Mohammad Nasim, Advocate Yosuf Hossain Humayun and Satish Chandra Roy were also present, among others. In the Banani graveyard the Prime minister also paid floral wreath at the graves of the martyrs of August 15, 1975. She showered petals of flowers on the graves and offered prayers for eternal peace of the departed souls of the four national leaders and martyrs of August 15.
Abn/Sun-01/National/Desk/MR/Mustafiz/Fatama
রিপোর্ট শেয়ার করুন »