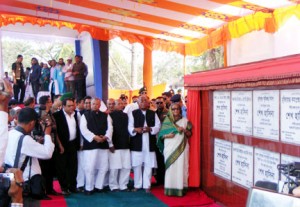 Dhaka, 14 November, Abnews : Prime Minister Sheikh Hasina left here today for Colombo on a two-day official visit to attend the Commonwealth Heads of Government Meeting (CHOGM)-2013. The three-day CHOGM begins in the Sri Lankan capital tomorrow morning. A special flight of Biman Bangladesh Airlines carrying the Prime Minister and her entourage took off from Hazrat Shahjalal International Airport (HSIA) at 2.10 pm.
Deputy Leader of the House Syeda Sajeda Chowdhury, Finance Minister Abul Maal Abdul Muhith, Agriculture Minister Begum Matia Chowdhury, LGRD and Cooperatives Minister Syed Ashraful Islam, Home Minister Dr Mohiuddin Khan Alamgir, Civil Aviation and Tourism Minister Muhammad Faruq Khan, Railway Minister Mujibul Haque and PM's Advisor HT Imam were present, among others, at the airport to see the Prime Minister off.
Besides, Cabinet Secretary M Musharraf Hussain Bhuiyan, the chiefs of three services, high civil and military officials were also present. The flight is scheduled to reach Bandarnaike International Airport in Colombo at 5 pm (Sri Lankan time).
The Prime Minister will attend the opening ceremony and official photo session and take part in the executive sessions of the CHOGM, official sources said.
On the sidelines of the meeting, Sheikh Hasina is expected to hold bilateral meetings with Sri Lankan President Mahindra Rajapaksa, Prime Minister of New Zealand John Key and Indian External Affairs Minister Salman Khurshid. The Prime Minister will return home on November 15.
CHOGM, taking place in Sri Lanka for the first time and in any Asian country in 24 years, will bring leaders of 53 Commonwealth countries that support each other and work together towards shared goals in democracy and development. Jointly organized by the host country and the Commonwealth Secretariat, the commonwealth leaders will discuss global and Commonwealth issues and decide collective policies and initiatives.
Abn/Thu-01/National/Desk/MR/Mustafiz/Fatama
রিপোর্ট শেয়ার করুন »