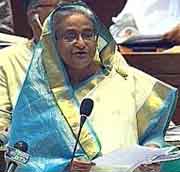 Dhaka, 16 July, Abnews : Prime Minister and Leader of the House Sheikh Hasina today expressed satisfaction over the verdict of the International Crimes Tribunal (ICT) against former Jamaat-e-Islami chief Golam Azam saying that the verdict is the outcome of a long wait and protracted struggle. The ICT has given verdict, and Golam Azam along with Jamaat- Shibir was found guilty in it. We are satisfied with the punishment against Golam Azam. But it is the matter of the court what judgement they would deliver, she said.
The Prime Minister said this while delivering her valedictory peech at the 18th session of the 9th Jatiya Sangsad. Terming the punishment against Golam Azam as the result of long waiting, efforts and struggle, she said We are hopeful that we will be able to start execution of the verdict during our tenure. She said the judges have been able to start trial process and they are delivering verdict with courage ignoring local and international pressure one after another. It is the biggest achievement of the nation.
Criticizing the absence of the opposition from the House, the Prime Minister said the support the BNP leader extended to the war criminals has been demonstrated through the party's support to today's and yesterday's hartals. Calling upon the countrymen to stay alert against the war criminals and theirs cohorts, Sheikh Hasina said BNP has extended support to Jamaat-Shibir's shutdown by skipping the JS session and for this, the nation would hate them.
Sheikh Hasina said Jamaat-Shibir enforced two-day haratl centering the verdict against Golam Azam. BNP boycotted parliament session for two days by backing Jamaat's hartal. BNP's support to Jamaat's hartal is unfortunate for the nation, she said.
Extending her thanks to the opposition for joining budget session of parliament, the Leader of the House said they took part in the discussion for long time, though the speech of their many members was 'vulgar' and 'derogatory', which tarnished the image of the JS.
The Prime Minister mentioned that her government always honours democracy. It is our aim to uphold democracy and run the country as per the constitution so that the democratic trend continues, she said.
Abn/Tue-01/National/Desk/Jasim/Mustafiz/Fatama
রিপোর্ট শেয়ার করুন »