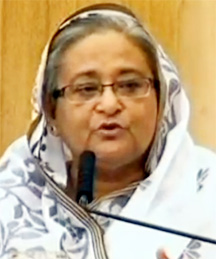 Dhaka, 06 May, Abnews : Prime Minister Sheikh Hasina today called for cooperation among the Muslim countries in the areas of science and technology, saying that it could help realize the goal of growth and prosperity. Backwardness of Muslim countries in the areas of science and technology is one of the factors that aggravate our difficulties. Utilization of science and technology and innovation can help greatly in addressing challenges like food, water and energy insecurity, she said. She said this while inaugurating the 19th International Conference of the Islamic World Academy of Sciences (IAS) at Pan Pacific Sonargaon Hotel here this morning.
The IAS, the Foreign Ministry, the Science and Technology Ministry, the University Grants Commission (UGC) and Bangladesh Academy of Sciences (BAS) have jointly arranged the four day conference. The theme of the five-day conference is Achieving Socio- economic Development in the Islamic World through Science, Technology and Innovation.
OIC Secretary General Ekmeleddin Ihsanoglu, State Minister for Science and Technogy Architect yeafesh Osman , IAS President Abdel Salam Majali Fias, BAS President Professor Ahmed A Azad and UGC Chairman Professor AK Azad Chowdhury also spoke on the occasion. Foreign Minister Dr Dipu Moni chaired the inaugural ceremony of the conference, while separate statements of Founding Patron of IAS Prince El- Hassan Ibn Talal and IAS Patron Pakistan President Asif Ali Zardari were read out.
Sheikh Hasina said information and communication technology (ICT) can indeed offer unprecedented gains not only in terms of saving cost but also in achieving faster, safer and more transparent methods of management. Experience-sharing among the Muslim countries as well as undertaking projects towards capacity building in ICT may be a useful stepping stone in the right direction, she said.
The Prime Minister said scientific and technological advancement and socioeconomic development are intertwined. Scientific and technological advancements have been the prime movers for development of the industrialized countries, she said. In the contemporary world, she said, science has been assuming increasing importance in a technology-driven world. Huge majority of member states of OIC have to face daunting challenges in the economic and environmental areas, she said.
Sheikh Hasina said the quest for knowledge is one of the seminal elements in the Islamic code of belief. Indeed, the golden age of the Muslims was marked by excellence in the pursuit of pure and applied sciences, she said.
The Prime Minister said contribution of Muslim scholars to the evolution of science and technology is immense. Astronomy, mathematics and every discipline of physical science, including medical science, have been built upon the innovations and theories propounded by our great Muslim scientists, she said.
She said as part of its 'Vision 2021', her government aims to establish a knowledge-based and technology-dependent Digital Bangladesh by the year 2021 when Bangladesh will celebrate the Golden Jubilee of its independence. She said Bangladesh is proud to be an active member of the OIC and its subsidiary, specialized and affiliated institutions.
Sheikh Hasina said, Holding of this international conference in Bangladesh in cooperation with an OIC-affiliate body reminds me of the attachment that Father of the Nation Bangabandhu Sheikh Mujibur Rahman had with the OIC. She said the historic participation of Bangabandhu in the Second Islamic Summit Conference in 1974 set the policy direction for Bangladesh towards widening its relationship with various institutions of the OIC.
Prime Minister said, He gave us the inspiration to work together with all other Muslim countries so that we can prosper together on the basis of noble Islamic values of unity and fraternity. She said as part of the inspiration, scientists of Bangladesh have been implementing various programmes for a long time that have contributed immensely to sharing of information and knowledge, replication of best practices and creation of a network of experts.
Abn/Mon-01/Technology/Desk/Jasim/Mustafiz/Shila
রিপোর্ট শেয়ার করুন »