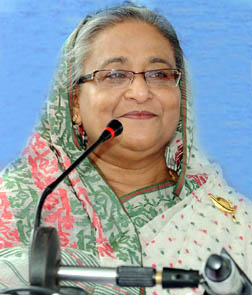 Dhaka, 05 June, Abnews :  Prime Minister Sheikh Hasina has sought cooperation of all to stop felling trees beside roads and highways during political agitation and any sort of harmful activities against the nature. Please plant trees wherever you can to protect environment. We want to create a green nature which is most important for our food security, nutrition, health and happiness, she said. MP said this while inaugurating the programme of the World Environment Day, three month long National Tree Plantation Campaign and month long Tree Fair 2013 at Bangabandhu International Conference Centre here today.
Sheikh Hasina urged all to put in their efforts for conservation of water bodies saying no housing or industrial projects without ponds or lakes would get government approval. She lambasted BNP-Jammat and Hefajat-e-Islami for indiscriminate cutting of trees particularly from road dividers during their recent political agitation in the capital and other parts of the country.
All persons responsible for the offence should be brought to legal action under the Environment Act, she said adding the trees were planted while Awami League was in power from 1996 to 2001 aimed at improving environment of urban areas. To heal the wound, she said, now I urge the destroyers of the trees to engage themselves in tree plantation programme in this national tree plantation month, she said.
Minister for Environment and Forests Dr Hasan Mahmud presided over the function organized by Ministry of Environment and Forests. Secretary of the ministry M Shafiqul Rahman Patwari, Director General of Department of Environment Golam Rabbani and Chief Conservator of Forests Yunus Ali spoke among others on the occasion.
The World Environment Day is being observed across the country as elsewhere in the world with the UN theme 'Think. Eat. Save'. While National Tree Plantation Campaign is being observed with the theme 'Gaach lagiye bhorabo desh, toiree korbo sukher poribesh' (let's fill the country with tree to build a nice environment).
The Prime Minister reiterated her call to every citizen to plant at least three saplings – one of fruit, one of herbal and other of timber- during the rainy season and help nurture the mother earth. To protect the nature, she urged every individual and entity to plant trees in and around all open spaces, homesteads, barren lands, across the roads and rail lines, embankments and newly surfaced chars.
Sheikh Hasina said her government has attached utmost importance to environment protection while implementing development projects. She said the previous government had planned to develop housing projects at Hatirjeel. But we didn't allow it making the area a scenic center of the capital through improvement of its surrounding environment, she said.
The Prime Minister said, the government has taken effective measures for city's waste management. Setting up of effluent treatment plant (ETP) has been completed, she said. On the occasion, the Prime Minister distributed National Environment Award, Bangabandhu Award for Wildlife Conservation and PM's special award for tree plantation.
This year, three persons were awarded the National Environment Award and three others were given Bangabandhu Award for Wildlife Conservation in different categories. PM's special award for tree plantation were given to 30 persons and organizations. The PM also unveiled a commemorative stamp on World Environment Day 2012.
Referring to the government plan for extensive afforestation in the coastal areas to face climate change impacts and environment protection, she said. Forest conservation helped adding around 1200 square kilometres of new areas with country's mainland. Listing her government's initiatives for protection of environment, she said new laws were framed to protect environment with strict enforcement of laws.
Land encroachment in the name of real estate business has been stopped and effective measures were taken for protection of hills, rivers, water bodies and zoological and botanical species, she said. She said one agreement and one protocol were signed with India for conservation of tigers in the Sundarbans and its ecosystem. A project titled 'Strengthening Regional Cooperation for Wildlife Protection' was undertaken with Nepal, India and Bhutan, she said.
The Prime Minister said the social afforestation has put an impetus in making the country green. In 2012, she said, around 12 crore saplings were produced under public and private initiatives, she said. She said the government has allocated around Taka 2,500 crore from its own resources to Climate Change Trust Fund while a resilience fund has been created with the assistance of the development partners. She congratulated persons and organizations who received awards this year for conservation of nature, wildlife and protection of environment and cheque receivers of the social afforestation programme.
Abn/Wed-01/National/Desk/Jasim/Mustafiz/Fatama
রিপোর্ট শেয়ার করুন »