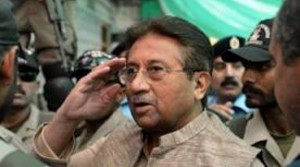 Dhaka, 21 April, Abnews: An anti-terrorism court on Saturday extended former Pakistan President Pervez Musharraf's detention remanding him in judicial custody for two weeks in a case accusing him of illegally detaining judges after imposing emergency in the country in 2007.
In a hearing lasting barely five minutes, the judge, Kausar Abbas Zaidi, ordered that the once powerful military dictator be held in judicial custody till May 4 when he is to be produced before the court again. Islamabad's district authorities declared Musharraf's farm house a sub-jail for security reasons as the former ruler faces life threats from the Pakistan Taliban. Police have issued notice prohibiting all visitors from meeting Musharraf at his farm house on the outskirts of the capital. The ex-army chief, who was brought under tight security, had to wait for 45 minutes to enter the courtroom as protesting lawyers blocked the entrance shouting anti-Musharraf slogans. The lawyers had broken all barricades and the authorities had call in Rangers (paramilitary force) and anti-riot police to control the situation. In the midst of the agitation, as the 69-year-old former army chief remained inside his SUV, the judge refused to interact with him through his representative as requested by senior police officers. As he emerged from the hearing, he saluted in his typical military style before being escorted back to police headquarters. Musharraf's aide Muhammad Amjad Chaudhry said the former military ruler was in good spirits despite his difficult situation. 'His morale is high. He says he will face the courts. He regrets that he is being accused of acts he never committed,' Chaudhry said. Legal experts say that Musharraf has been caught in a long-drawn legal battle that would require him to frequently appear in different courts. So far he has appeared in Islamabad's high court and lowers courts in the judges' detention case. He faces three other cases- Benazir Bhutto's assassination case, the killing of Baluch nationalist leader Nawab Akbar Bugti and the case relating to military operation on Lal Masjid. 'It is yet to be seen how the courts take up all cases against Musharraf. As the cases are of different nature, it seems the president will be arrested in every case before he approaches for bail,' said Khwaja Haris, a Supreme Court lawyer.
With Musharraf's arrest, for the first time an anti-terrorist court (ATC) started functioning in Islamabad. The caretaker government issued notification to establish ATC in Islamabad soon after a judicial magistrate ordered on Friday to present the former ruler before such a court within 48 hours. So far, all others accused of terrorism charges, including the perpetrators of the Mumbai attacks, have been produced before the anti-terrorist court in the garrison city of Rawalpindi.
Abn/Sun-02/Law & Crime/Desk/Mustafiz/Majumder/Ripa
রিপোর্ট শেয়ার করুন »